Winnipeg Chapter Successfully Hosts the Second Asset Management in Manitoba Summit
The Asset Management in Manitoba Summit was held on November 5, 2020 from 8:30 - 1 pm. Over 90 people registered for this event, which saw over 80 people who attended the live session. This virtual conference included three knowledge tracks with 3-4 panelists. The tracks focused on Asset Management Standards, Asset Management Decision Making and Business & Financial Principles in Asset Management. Each panelist provided a brief presentation and then a moderated panel discussion followed.
Questions were requested at the time of registration and were also accepted via live chat during the sessions. The sessions were very interactive with high audience participation. Feedback from attendees has been very positive with comments on the caliber of the speakers, the mix of asset owners and service providers, and the level of experience of the presenters with implementing asset management systems. This led to knowledge sharing that was practical and immediately applicable.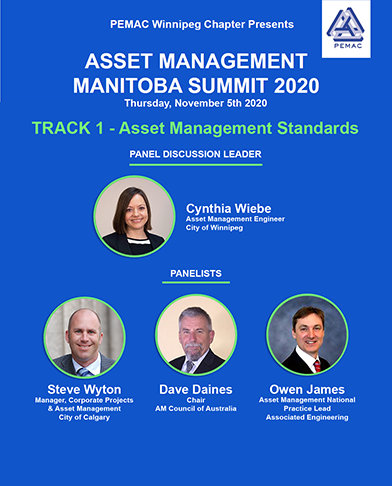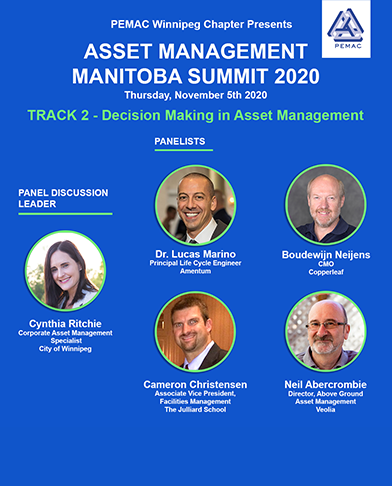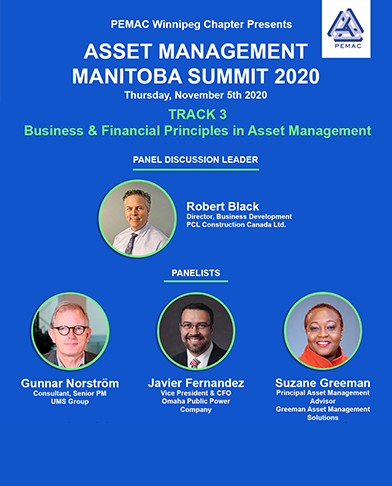 Posters of the three (3) knowledge tracks at AMMS2020. The tracks ran back to back and attended only had to register once to access all three.
Thank you to our event sponsors - UE Systems, Lakeside Process Controls, Hippo CMMS, Fluke Corporation
Are you a Maintenance, Reliability or Asset Management professional based in the Winnipeg area?
Consider joining the PEMAC Winnipeg Chapter to connect and learn with others looking to advance their knowledge and skills in the asset management profession.