PEMAC Opens Globally Aligned Asset Management Certification Applications
In November 2019, the World Partners in Asset Management (WPiAM) announced the development of a framework for alignment of professional credentials in Asset Management, to which professional bodies, post-secondary and training institutions around the world would align over time. PEMAC has developed three competency-based asset management credentials, aligned to this global framework: the Certified Technical Specialist in Asset Management (CTAM), Certified Practitioner in Asset Management (CPAM) and Certified Senior Principal in Asset Management (CSAM) certifications.
Global Recognition for Competency in Asset Management
This suite of tiered certifications provide a laddered career path in asset management for individuals who are looking to advance their skills and improve their ability to contribute to the success of the organizations they serve. These certifications, through their alignment with the competency-based global certification scheme (GCS) allow organizations to ensure that the individuals they hire anywhere in the world have the knowledge, skills and experience to apply asset management principles in various contexts.
The Benefits of Globally Aligned Certifications
The global certification scheme (GCS) for Asset Management (AM) has been developed specifically for those pursuing an Asset Management career path. The key attributes of GCS-accredited certifications are as follows:
Global recognition of your AM knowledge, skills and experience achieved through various pathways
Staying current with advancements in the field of AM
Providing a clear pathway to career advancement and increased earning potential
Increased job opportunities
Global transferability of AM competency recognition across various industries and countries
Transportability across industries, organizations and career roles
Building your network through PEMAC's AM community engagement and events
The CTAM certification is applicable to individuals proficient in the application of specific and essential activities within a relevant Domain of AM required to deliver against the AM objectives of the organization.
CPAM certification will appeal to AM specialists who are advancing in their careers or who have reached a fully qualified practitioner level and prefer to focus on gaining depth in one or more domains, including application of the business management aspects of AM.
The CSAM (Certified Senior Principal in AM) is a measure of the competency of AM practitioners who are responsible for establishing, updating and managing oversight of a holistic and integrated AM framework across a significant area of the portfolio at their organizations. It is this breadth of responsibility for delivering organizational strategic objectives paired with depth in several of the AM domains that makes the CSAM a desirable rung on the AM career ladder.
In time, the GCS will be expanding to include an associate level for those new to the AM profession, and a fellow level for those at the pinnacle of their AM careers who demonstrate depth, breadth and significant levels of responsibilities in AM competence.
The globally accredited certification provides a common platform and specification requirement that indicate to organizational leadership and HR departments that the individual has the competency to perform AM activities at the required level of expertise. Whether your organization is looking at internal career path promotions and compensation, internal transfers between departments or locations or assignment of staff to strategic initiatives, or hiring externally for new employees or consultants, externally recognized certifications provide a measure of competency in those assigned or hired to perform the job.
First Certifications Issued to Three Worthy Applicants
PEMAC is proud to announce the first three recipients of these new certifications. Congratulations to Michael Latimer, Jean-Pierre Pascoli and James Reyes-Picknell. Each has successfully met the requirements of the PEMAC Asset Management Association of Canada Certified Senior Principal in Asset Management certification, and are hereby entitled to use the CSAM designation while in good standing with the association.
Applications for these globally aligned asset management certifications are now open. Interested candidates can learn more and take our online self assessment tool to determine their eligibility to apply for their CTAM, CPAM or CSAM certification on the PEMAC website at pemac.org/recognition/certification/gac.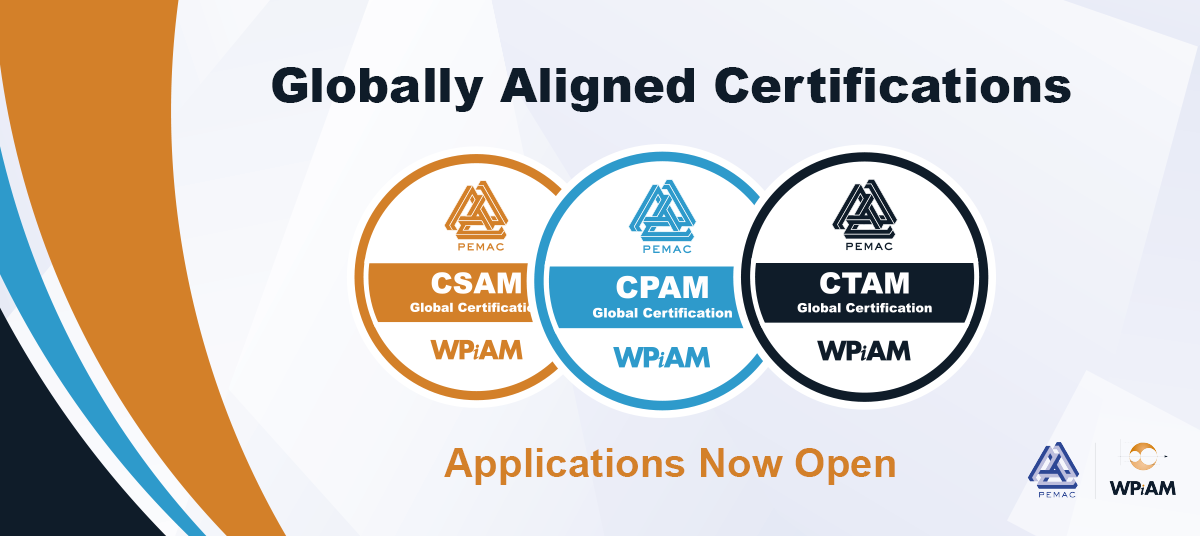 Learn more about CTAM, CPAM, CSAM Certifications
####
About PEMAC Asset Management Association of Canada
PEMAC is a national non-profit association providing global leadership, education and certification in world-class maintenance, reliability, and physical asset management practices. PEMAC improves member's professionalism, safety, performance, and recognition by providing training, research, networking, and a public voice for members and the profession. PEMAC is a member of the Global Forum on Maintenance and Asset Management (GFMAM), as well as a partner in World Partners in Asset Management (WPiAM). To learn more visit: www.pemac.org. 
About World Partners in Asset Management
World Partners in Asset Management is a not-for-profit organization whose mission is to enable individuals and organizations to develop, assess and recognize competence in Asset Management. WPiAM has 7 member organisations including the ABRAMAN (Brazil), the Asset Management Council (Australia), GSMR (GCC Countries), JAAM (Japan), SMRP (USA), PEMAC (Canada), and SAAMA (Southern Africa). To learn more visit: www.wpiam.com

For Additional Information Contact:
Mbongeni Mtetwa, Marketing Specialist, PEMAC Asset Management Association of Canada (905) 823-7255, ext 8, marketing@pemac.org