The Humber College $5 Million MMP April 2018 Graduation Class
"On behalf of all Maintenance Management Professional (MMP) instructors at Humber College, I wish to congratulate the recent Humber MMP Capstone graduation class. Having effectively applied the learning objectives of all 7 MMP educational modules of the Maintenance Management Professional certification and designation program, these management professionals now qualify for the coveted MMP professional designation from PEMAC. The combined value of improvements to business processes, operational productivity, reduced costs, and increased economic life of equipment recommended by this class's Capstone project submissions exceeded 5 million dollars per year*.

Focusing on developing and implementing continuous improvement strategies that ensure capable, reliable, repeatable, sustainable, safe and environmentally compliant operational processes, equipment and assets, the MMP designation is equally applicable in every national industry and business sector. Although MMP is a Canadian designation, it is also highly acclaimed globally.
After almost 20 years of instructing MMP at Humber College, I am continually overwhelmed by the professionalism of participants in the MMP program. I wish each of them continued career successes."

Brian Malloch, MMP
Instructor of this MMP Module 8 class.


​The MMP certificate program focusses on the tools, techniques, strategies and skills necessary for effective management of a business's existing physical assets, processes and services. Following the successful completion of eight modules, graduates have the knowledge and skills to drive improvements in production or service cost improvements, production capacity, equipment reliability, safety, environmental compliance, economic life of assets, return on investment and effective communication between departments. For more information about the MMP program visit www.pemac.org/mmp and to find a teaching institution near you click here.

​To learn more about the MMP program join PEMAC's upcoming information session on June 20. Click here for more information and to register.

Humber College offers the MMP program throughout the year. Click here to see the current MMP schedule and for information about how to get started. Contact Lisa Tubia at (416) 675-6622 ext. 4885 or email lisa.tubia@humber.ca for more information about the offering at Humber College.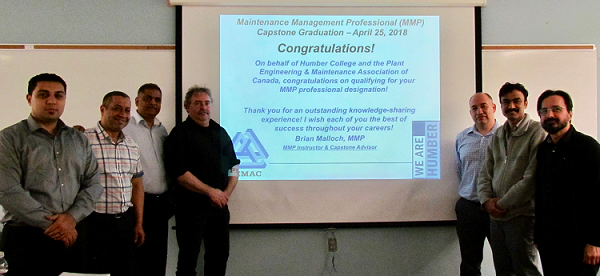 Featured in the photo from L-R: Sam Abadir (Skjodt Barrett Foods), Abdelhak Belkentaoui (Skilcor Food Products Ltd.), Jignesh Patel (Roxul/Rockwool), John Colwell, (MolsonCoors), Mario Orienella (Liburdi Automation Inc.), Adnan Ahmed (observer) and Dan Iliescu (Mars Wrigley Confectionery).
* The estimated financial benefit from the combined project proposals are annual and most of them extend beyond the life of the actual project. Of course there are many dependencies that could negate the estimated benefits including whether the company implements the project, whether the company requires the improved capacity that has been identified, whether the company chooses to retain the product line at the proposed location, etc. On the other hand the participants, in identifying $5 MM opportunities for their companies have acquired a repeatable skill. So it could be said that the benefits are potentially much greater, as well.