PEMAC attends the 2020 Atlantic Asset Management Conference (AAMC)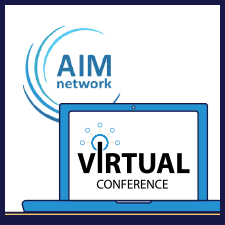 This year's Atlantic Asset Management Conference (AAMC) hosted by the Atlantic Infrastructure Management (AIM) Network was originally planned as an In-Person conference in September, taking place in Dartmouth, NS. Instead, it transitioned into a two-day virtual conference that took place on October 28th and 29th during day time hours with breaks and networking between the many keynotes and presentations.
The AIM Network is an asset management community of practice comprised of individuals and organizations having an interest in, or responsibility for, the management of municipal infrastructure in Atlantic Canada (Nova Scotia, Newfoundland, Prince Edward Island and Newfoundland).
Martha Myers, President of PEMAC's Nova Scotia Chapter represented PEMAC at this year's conference.
Conference Day One
The first day was kicked off with an update from the Federation of Canadian Municipalities (FCM) and Infrastructure Canada. Wally Walls for Asset Management BC was the Keynote speaker for Day One and gave a very informative presentation on "Putting Asset Management in Action". He spoke about the Four C's: Collaboration, Capacity, Culture and Council. AMBC was the first Asset Management "Community of Practice" organization in Canada and its website has a lot of great resources available.
PEMAC was proud to sponsor the Round Table / Networking session which consisted of eight different topics and four breakout sessions.
There were two tracks with six presentations to choose from on the first day of the conference giving attendees a great amount of choice as to what insightful presentation to attend.
Conference Day Two
On the second day, Asset Management updates were given from New Brunswick and PEI. Christina Benty gave a very energetic presentation about "Psychological Safety" and how to have a healthy organizational culture. There was a 2-hour panel discussion on "Building Resilience to Climate Change with Asset Management". It was a MAMP initiative and was very well received. Johan Verlinde for the City of Rotterdam, Netherlands presented how the city has had to adapt, being a city that is 85% below sea level. Emanual Machado from the Town of Gibson, BC, also spoke about the value of Natural assets.
The conference ended with 3 different presentations to choose from, 1 from the AIM Network, a case study from Mahone Bay, sharing what they have learned in the AM journey and another from the City of Moncton about Paperless Data Collection using Survey 123 for inspections.
The AIM Conference was a great opportunity for asset management professionals from across Canada to connect and learn, and PEMAC was proud to have been able to be a part of such a great event. We look forward to seeing you all next year!


Martha contended with your typical work from home distractions during the online AAMC. It seems everyone is interested in learning more about asset management.
About the author:
PEMAC member and President of the PEMAC Nova Scotia Chapter, Martha Myers attended AAMC as a conference volunteer as well as a representative of PEMAC Asset Management Association of Canada.
PEMAC used the sponsored opportunity to raise awareness for a specially funded offering of AMP Course 1 for municipal practitioners and shared a short video which you can watch below.