PEMAC publishes the Summer 2023 Issue of PEMAC Now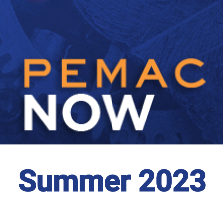 The latest issue of our member magazine, PEMAC Now is here! This edition shines a spotlight on the work our members are doing across Canada and around the world, championing maintenance, reliability and asset management.
In this edition we recognize our most recent PEMAC Award winners, shine a light on the benefits of asset management and recognize the most recent recipients of PEMAC's globally recognized certifications.
Thank you to all the members who were involved in putting this issue together. It couldn't have been done without you.
We hope you enjoy the edition of PEMAC Now, and that it inspires you to contribute to the next issue of the magazine.
Explore the Summer 2023 Edition of PEMAC Now
Do you want to contribute to the next issue of PEMAC Now?
Contact the editorial committee at editor@pemac.org.