Coming Soon
Coming Soon
Global Credential Scheme Accredited by WPiAM
Overview
PEMAC Asset Management Association of Canada (PEMAC) is engaged with the World Partners in Asset Management (WPiAM) on the development of a Global Credential Scheme which is currently being finalized for implementation.
This competency-based scheme will allow organizations to ensure that the individuals they hire anywhere in the world have the knowledge, skills and experience to apply asset management principles in various contexts.
The WPiAM global credential scheme recognizes that professionals who are interested in demonstrating their asset management competency come from a broad range of disciplines. Therefore the "Knowledge" aspect of the credential will be met, in part, by a trade certification, diploma or degree in any of a broad range of disciplines.
It also recognizes that certain core knowledge in Asset Management is key to building 'coordinated effort'. Therefore at each level of certification, professional development in the full breadth of asset management subject areas will be required. And at each level of certification, the depth of knowledge expected is increased.
The table below is an initial assessment of where the courses of the PEMAC Maintenance Management Professional (MMP) and Asset Management Professional (AMP) programs fit to meet the Asset Management knowledge requirements for the emerging global credentials which are:
CSAM - Certified Senior Principal in Asset Management
CPAM - Certified Practitioner in Asset Management
CTAM - Certified Technical Specialist in Asset Management
In general, anyone who has completed all of the courses in the MMP program will have the required asset management knowledge for either the CTAM or CPAM credentials. Which of these credentials they might pursue would depend on their demonstrated work experience, skills and level of responsibility.
Similarly, anyone who has completed all of the courses in the AMP program will have the depth of AM knowledge required for a CSAM when coupled with an assessment of their demonstrated competency in practice. To become CSAM certified they will write the CAMA exam and have specific competencies assessed based on demonstrated application.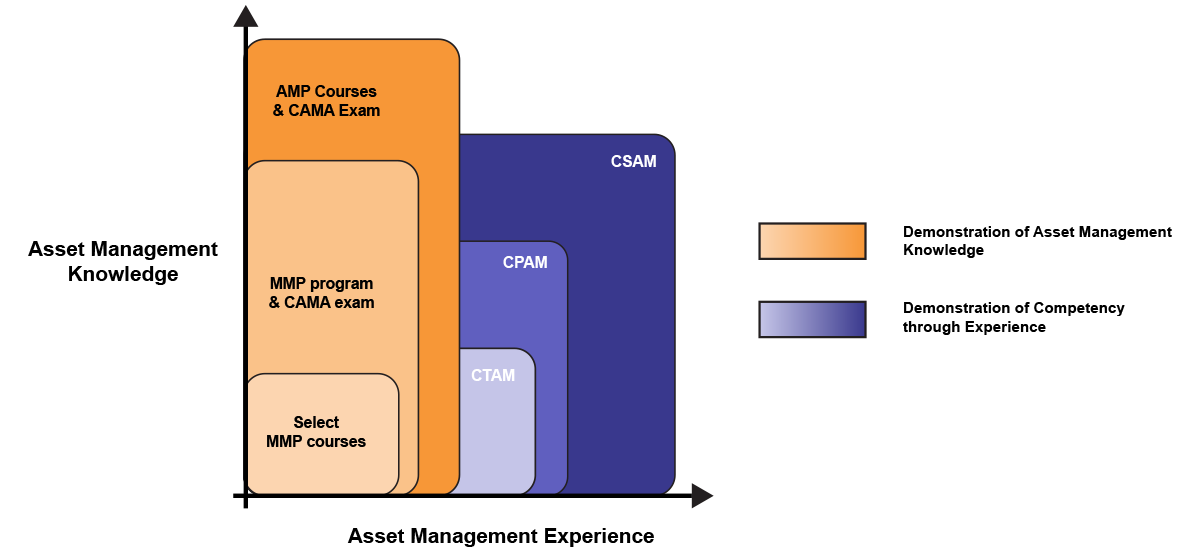 Administration of the Scheme
The WPiAM will own and maintain the standards of the scheme. WPiAM will accredit partner associations like PEMAC to offer these certifications and will audit to ensure that the certification standards are being applied consistently around the world.
WPiAM is a worldwide partnership, working to enable individuals and organizations to develop, assess and recognize competence in Asset Management.