PEMAC's Largest-ever MainTrain Conference Connects Practitioners Across the Globe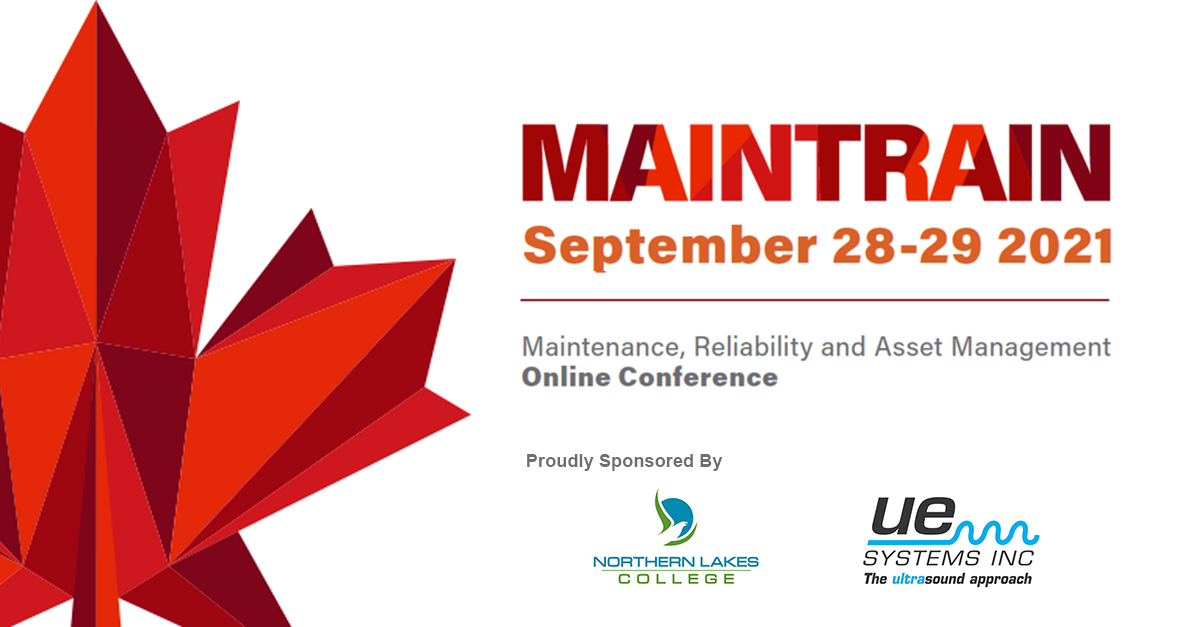 Over 300 delegates, speakers, exhibitors and sponsors connected live online for the 21st annual MainTrain maintenance, reliability and asset management conference. This was the second time the conference was held virtually, enabling PEMAC to leverage learnings from last year to create a robust program combined with many opportunities to engage and connect with like-minded, maintenance, reliability and asset management professionals from across Canada and around the world.
The two-day main event, held from September 28-29th was preceded by 4 weeks of pre-conference programming including bi-weekly presentations focused on a range of topics, from balancing risk and performance to the importance of culture in aligning an organization to achieving excellence. The robust program highlighted the diverse industries in which maintenance, reliability and asset management are crucial to achieving value and how technology is being leveraged by asset-owning organizations around the world to deliver that value. Platinum Sponsors Northern Lakes College and UE Systems were joined by a total of 14 sponsors and exhibitors who supported the interactive, online event.
Professional Development Opportunities through Educational Workshops
PEMAC hosted two educational workshops in partnership with Northern Lakes College as part of the pre-conference program. Module 1 of PEMAC's Maintenance Management Professional (MMP) program, An Integrated Strategy for Maintenance Management, provided registrants with an intensive introduction to this rigorous program, developing the framework for thinking about a strategic approach to maintenance management that is integrated with their business and organizational goals. Secondly, PEMAC's course, Becoming a Certified Asset Management Assessor, provided candidates with preparatory instruction to help them complete the Certified Asset Management Asser (CAMA) exam while strengthening their understanding of holistic asset management and the ISO standards.
The Main Conference Event and Exhibition
The main conference program consisted of 40 presentations from national and international speakers from as far across the globe, covering four (4) tracks: Maintenance, Reliability, Asset Management and Technology, featuring case studies, plenary sessions, and panel discussions. The opening plenary discussion highlighted the intersection of climate change and asset management and how organizations and all levels of government should be looking to leverage asset management principles and practices to both minimize and respond to the risks posed by climate change.
PEMAC Announces 2021 Award Winners
This year's award ceremony once again took the form of a virtual celebration, held on the evening of the first day of the MainTrain conference. PEMAC members were honored with eight awards from across two categories: Member awards and Excellence in Practice awards. There are three types of Excellence in Practice awards: the Capstone awards, individual awards and team awards. PEMAC awards recognize achievements of each type, for both maintenance management and asset management subject areas. A full list of PEMAC Award winners can be found here.
Engaging Panel Discussions with a Global Perspective
The conference program concluded with How Asset Management Contributes to Reliability in Unreliable Times, a global panel of asset management practitioners from Australia, Brazil, South Africa, and Japan and which was moderated by PEMAC Past President and Canadian delegate to the GFMAM, Susan Lubell. The discussion highlighted the global importance and impact of natural disasters, climate and weather events to public and private sector asset-owning organizations, large and small across the world. It also provided a global perspective on the importance of resilience, sustainability and how asset management is evolving as countries around the world adapt to the ever-changing environment.
PEMAC Announces the Location of MainTrain 2022!
In the concluding remarks of the conference, PEMAC President Jean-Pierre (J.-P.) Pascoli thanked all the sponsors, exhibitors and delegates for being part of PEMAC's largest-ever MainTrain conference. He also took the opportunity to announce that plans were already underway for MainTrain 2022 which is scheduled to take place next September in Toronto, Ontario.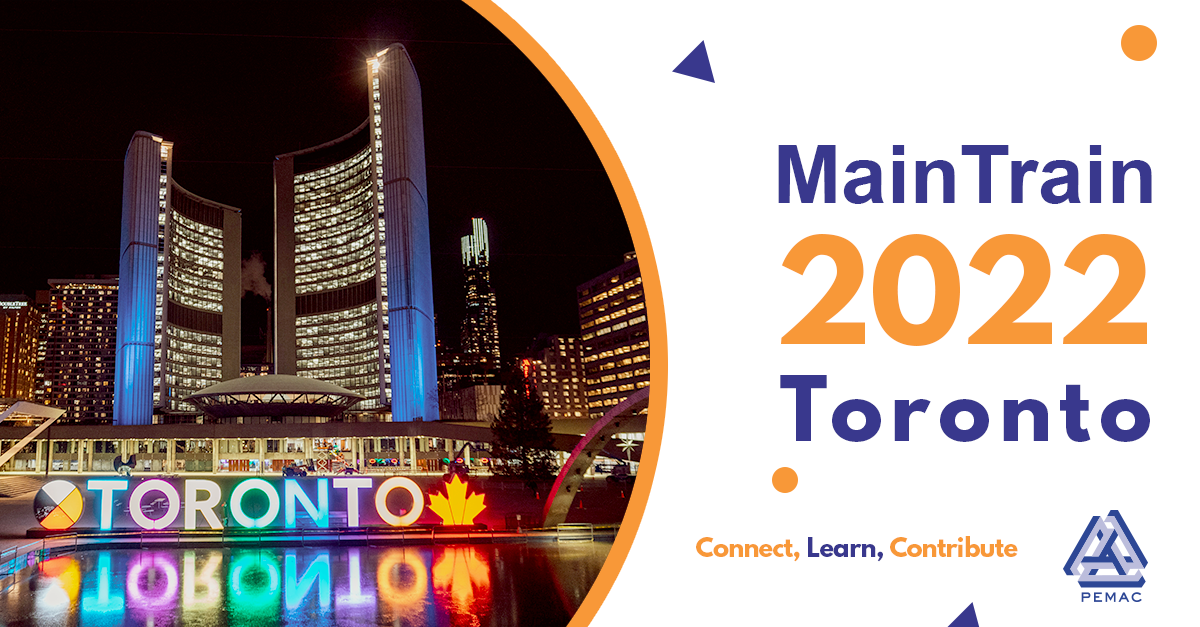 PEMAC, the MainTrain committee and the events team would like to thank all those who attended this year's MainTrain conference and are looking forward to connecting in person next year at MainTrain 2022.

Those wishing to take part in the conference still have the opportunity to earn up to 34 CPD hours while learning from over 40 insightful presentations and case studies, which are available on-demand on the virtual conference platform until November 30th. Registration is required and is available here.
"An advantage of virtual conferences is the ability to record presentations, increasing content accessibility and allowing participants an opportunity to fully engage with the conference content at their own pace, without worrying about missing out on anything. I can focus on networking and establishing connections with the knowledge that I can revisit the content at my own time. It allows you to enjoy the conference at your own pace," said one delegate during one of the many networking breakout sessions held during the event.
To register and gain access to the MainTrain 2021 conference content, click the button below.
#####
About MainTrain:
MainTrain is Canada's premier annual learning event and conference — developed by
practitioners for practitioners — for asset management maintenance and reliability professionals. To learn more visit: www.maintrain.ca 
About PEMAC:
PEMAC is a national non-profit association providing global leadership, education and certification in world-class maintenance, reliability, and physical asset management practices. PEMAC improves member's professionalism, safety, performance, and recognition by providing training, research, networking, and a public voice for members and the profession. PEMAC is a member of the Global Forum on Maintenance and Asset Management (GFMAM), as well as a partner in World Partners in Asset Management (WPiAM). To learn more visit: www.pemac.org.