06 Risk and Review
Shared Learning Library
Shared Learning Library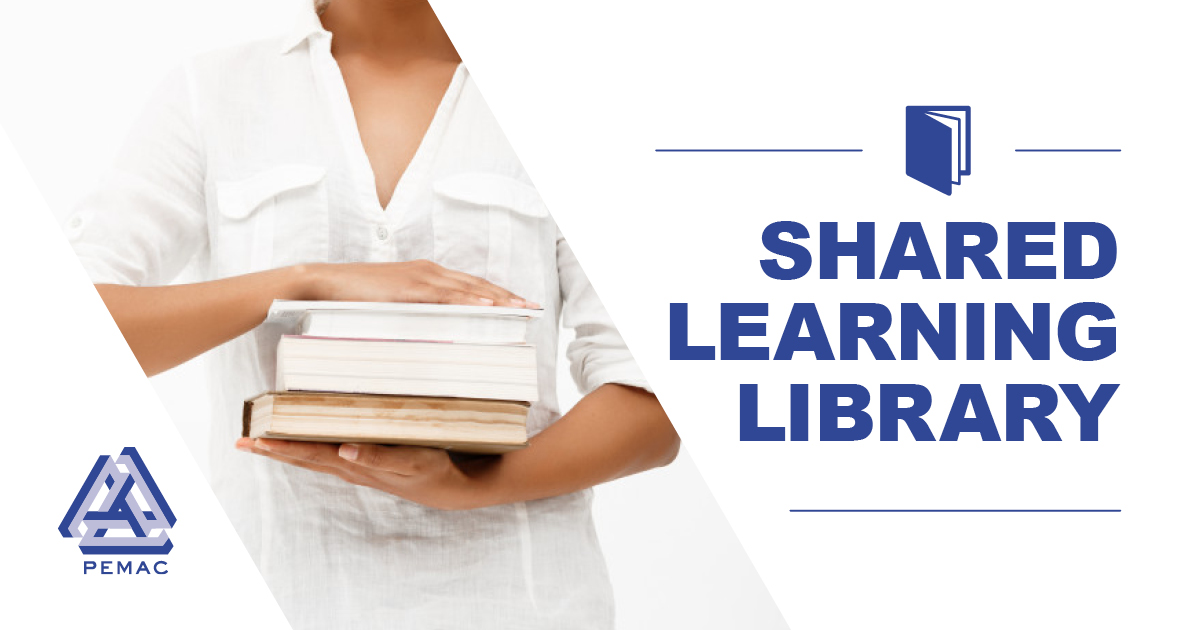 Welcome to PEMAC's Shared Learning Library, a growing body of community created knowledge, built up and maintained by the PEMAC member community. Explore a range of articles, presentations and webcasts covering a wide range of maintenance, reliability and asset management subject areas. You can even find presentations from past MainTrain conferences and PEMAC Lunch & Learn webcasts.
To easily find what you are looking for the content of the Shared Learning Library can be filtered by both Maintenance Management and Asset Management subject areas using the options in the menu to the left of the screen.
Displaying 1 - 17 of 17
Keynote: Recovery of Asset Management

Motion Amplification Joining the Asset Management Landscape

BoK Content Type:

Presentation Slides

Webcast

Presentation Paper

New technologies regularly enter the world of asset management (AM), often leveraging new inventions, which, in turn, are driven or supported by other advances such as computing power and big data handling. Such is the case for Motion Amplification, a new technology impacting crucial aspects of vibration analysis, machinery and structural troubleshooting, root cause analysis, and communications. This presentation will outline which areas of AM are impacted so we can have a road map facilitating the integration of the new tool into a global strategy and get an overall picture of the impacts it will have. We'll also provide a brief technical introduction and some practical illustrations.Originally presented at MainTrain 2020

Checklist Manifesto for Maintenance

BoK Content Type:

Presentation Slides

Webcast

Is safety a concern for your organization? What about reliability? How is it that aviation is able to ensure such safe operations? Yes, that industry has trained pilots with lots of experience, but that alone is not enough. Doctors are well trained, as are our skilled tradespeople, yet mistakes are common. So how do we overcome those mistakes? The Checklist Manifesto shows how checklists have, and can, make such a significant difference in the aviation, medical, and construction fields. Why not learn from these industries and apply that same methodology to our maintenance programs? Developing a checklist is not as simple as throwing a bunch of steps on a piece of paper and handing it to our skilled tradespeople. Checklists have to be simple and address the right issues. We also have to overcome some stigma to get our tradespeople to use them.

Maintenance Strategy Optimization – From the Bottom Up!

BoK Content Type:

Presentation Slides

Webcast

Presentation Paper

As the influence of the asset management approach continues to expand within Nova Scotia Power, we need a structured approach to ensure we continue to seek opportunities to optimize maintenance strategies. In a new installation, techniques such as failure modes and effects analysis (FMEA) and reliability centred maintenance (RCM) can be used to develop an optimized maintenance strategy from the start, in a top-down approach. However, the vast majority of Nova Scotia Power's equipment was in place long before the asset management office—and, therefore, the asset management approach—existed. The result of that is a collection of value-added, but developed after-the-fact maintenance strategies. Each maintenance strategy has components of operator surveillance (rounds), testing, predictive pattern recognition (also known as advanced pattern recognition, APR), predictive maintenance (condition-based monitoring and risk-based inspections), online monitoring, and preventative maintenance. While efforts had been made to "baseline" the equipment processes when maintenance strategies were developed (i.e., "clean out" existing activities), the organic growth of the approach and the distributed nature of assets and personnel have made this difficult to maintain. Therefore, we needed an approach to optimize existing maintenance strategies, without recreating them. Nova Scotia Power has therefore undertaken an effort known as maintenance strategy optimization, and has made this activity a core accountability for the asset management team, which recognizes the need to seek continuous improvement (vs. a one-time exercise). With a focus on digitization wherever appropriate, Nova Scotia Power has asked a number of questions to streamline, standardize, and optimize its maintenance strategies. Is there opportunity to reduce PM frequency? Is there opportunity to collect more information such that we can strengthen our APR models? Can our in-house standards be revalidated to sustainably reduce operating and maintenance costs? Nova Scotia Power is answering yes to these questions, and more, and pursuing opportunities to optimize its maintenance strategies—from the bottom up!

Discovery, Learning, Solution (DLS) –The Causal Learning Approach

BoK Content Type:

Presentation Slides

Presentation Paper

One major challenge at the operate and maintain phase of an asset is achieving and sustaining the forecasted availability and reliability as intended at the project delivery phase. Many problems arise—equipment failures, underperformance, high costs—that are caused by numerous issues. The resolution demands thorough understanding of the causes of the issues, which we usually attempt to achieve through RCA methodologies. I've experienced many repeated failures even when RCAs have been conducted, due, mainly, to most of the RCAs focusing attention on solutions to the problem outcomes with limited focus on the human and system causes that drive the outcomes. The Causal Learning Approach brings in the understanding of these other causes that ensure effective and sustainable solutions development. There are three levels of causes: the physical outcomes; the human causes; and the system causes. The Causal Learning Approach also focuses on causal reasoning instead of defensive and solution reasoning. This presentation will provide the understanding of these causes and the three key elements of this approach: discovery, learning, and solution generation.

Demystifying Your R&M Pathway to Operational Success

BoK Content Type:

Presentation Slides

Presentation Paper

Metrics, best practices, more than 40 key elements to implement, challenges, and opportunities all combine to make a successful implementation difficult. Where do you start, and how do you know how to work on what matters? Once you understand how it's all related, you can focus on the vital few to leverage the maximum ROI. This presentation will clarify the importance of culture and employee engagement, along with other key plant floor performance indicators that will be clarified with data. We'll look at the current state of R&M; what's working and what's not; survival skills for the next decade; impacts of connected technologies (edge computing, big data, machine learning, AI, 3D printing, augmented reality); the importance of getting your data ready for what's coming next; and relationships between R&M and safety, people engagement, quality, throughput/uptime, and cost.

Root Cause Analysis: Driving Bottom Line Improvement by Preventing One Failure at a Time

BoK Content Type:

Presentation Slides

Webcast

Original date:

Thursday, February 28, 2019

Many maintenance and reliability staff are so busy fixing problems that they never get the chance to prevent them. In a reactive work environment, there is simply no time to spare. Root cause analysis (RCA) gives us an easy-to-implement approach to preventing failures that integrate with our current troubleshooting efforts and drives bottom-line business improvement. We can make our workplaces safer by reducing the number of unexpected failures, which will then result in improving our business performance, increasing our facility's throughput and reducing the money spent on repairs – straight to the bottom line.

Reliability Centered Maintenance Re-Engineered RCM-R(r) - An Introduction

BoK Content Type:

Presentation Slides

Webcast

Presentation Paper

Reliability Centered Maintenance – Reengineered, provides an optimized approach to a well established and highly successful method used for determining failure management policies for physical assets. It makes the original method that was developed to enhance flight safety, far more useful in a broad range of industries where asset criticality ranges from high to low. RCM-R® is focused on the science of failures and what must be done to enable long term sustainably reliable operations. If used correctly, RCM-R® is the first step in delivering fewer breakdowns, more productive capacity, lower costs, safer operations and improved environmental performance. Maintenance has a huge impact on most businesses whether its presence is felt or not. RCM-R® ensures that the right work is done to guarantee there are as few nasty surprises as possible that can harm the business in any way. RCM-R® addresses the shortfalls of RCM that have inhibited its broad acceptance in industry. Little new work has been done in the field of RCM since the 1990's, yet demand for such a method, better adapted to industrial applications is higher than ever and growing. Demographics and ever more complex systems are driving a need to be more efficient in our use of skilled maintenance resources while ensuring first time success – greater effectiveness is needed. RCM-R® was developed to leverage on RCM's original success at delivering that effectiveness while addressing the concerns of the industrial market. RCM-R® addresses the RCM method and shortfalls in its application. It modifies the method to consider asset and even failure mode criticality so that rigor is applied only where it is truly needed. It removes (within reason) the sources of concern about RCM being overly rigorous and too labor intensive without compromising on its ability to deliver a tailored failure management program for physical assets sensitive to their operational context and application. RCM-R® also provides its practitioners with standard based guidance for determining meaningful failure modes and causes facilitating their analysis for optimum outcome. It places RCM into the Asset Management spectrum strengthening the original method by introducing International Standard based risk management methods for assessing failure risks formally. RCM-R® employs quantitative reliability methods tailoring evidence based decision making whenever historical failure data is available.

'Pumping' Technology into our 'Sewage Pumping Stations'

BoK Content Type:

Presentation Slides

Presentation Paper

"Sustainability through reliability" — presented at the 2015 MainTrain Conference — focused on the rapid growth of passenger flow at Toronto Pearson Airport and how, due to this growth, we were experiencing a high number of plumbing drainage failures. We carried out an RCA on our system and came up with changes in how we would prevent drainage failures. The changes we made dealt with our plumbing design standards; food and beverage tenant fats; oil and organics recovery system; lease agreements; and maintenance practices. However, that was only the starting point. In this presentation, we'll discuss RCA conducted, the failures experienced, and the enhancements and improvements we made to make our system more reliable.

Mobile Devices in a Mining Environment - A Case Study

BoK Content Type:

Presentation Slides

Webcast

Original date:

Wednesday, February 14, 2018

This webcast will highlight Potash's extensive implementation of mobile devices to support its business processes. Aligned Mobile Applications are now in use or being implemented at Potash's Allan, Augusta, Aurora, Geismar, Lanigan, Lima, Rocanville & Trinidad sites. Potash has partnered with Viziya to develop a single integrated mobile app to meet its maintenance and supply chain business requirements, and Postash continues to deploy 'out of the box' apps from its Enterprise Resource Planning (ERP) system. Vendor mobile devices are now a commodity which provide a cost effective way to drive efficiencies. Importantly, apps are available across various platforms; hardware choices do not drive decision making when it comes to selecting the best tools for our business. If you are thinking about implementing a shift to mobile devices on the front lines, this will be a great opportunity to learn from the Potash experience. Reviewer's comments; Excellent presentation outlining how Potash Corporation of Saskatchewan has deployed a combination of technologies, enabled on mobile devices (tablets / laptops) integrated fully with their EAM and KPI monitoring systems. Author provides an overview of the situation "before" deployment, through the deployment (which took place over several years) to the "after" or current state. If you want to know what can be done and has been done, this is pretty leading edge stuff and well worth the time to listen.

From Horseless Carriages to Cars – Disruptive Influencers and the Importance of Mindset Shift to Implement a Maintenance Management Strategy: A Case Study with JEFFBOAT

Original date:

Thursday, January 11, 2018

Jeffboat is a company with a long history. Originally named the Howard Steamboat Company, Jeffboat is America's largest inland ship builder and has been manufacturing ships for over 100 years. Jeffboat has built such famous ships as the Mississippi Queen, the General Jackson showboat and the Casino Aztar riverboat casino. Like most manufacturing firms, Jeffboat has an enormous amount of equipment stretched out over a shipyard that is over a mile in length that is needed to make its boats. Also like many old-line manufacturing firms, Jeffboat has both equipment and employees who have been there for several decades. Overall, because of the size of the shipyard and age of the equipment, Jeffboat's maintenance was used to working in reactive mode. There was no CMMS software in place and equipment was put into numerous Excel spreadsheets. In addition, it was often hit or miss whether the right parts were in the stores room and finding the right equipment often took maintenance technicians a significant amount of time. There was no Scheduler/Planner and maintenance procedures were done informally and based on need at that particular moment.When implementing a maintenance management strategy, a critical component is the resistance to change. Whether it is the introduction of new software or a complete overhaul of the maintenance function, the process of change represents disruptive technology (Christenson, …). According to Christenson, most changes are really improvements on something old and the old paradigms can be used. However, there are changes that organizations need to make that disrupt the dominant paradigm, rather than sustaining it. These are disruptive technologies and make the old things less important or obsolete. The problem with these disruptive changes is that people are still applying the old paradigms to the new realities. They are trying, in a sense, to understand the car as nothing more than a carriage without horses.

Debunking Risk Resiliency by Implementing a Risk-Based Maintenance Strategy

BoK Content Type:

Presentation Slides

Presentation Paper

Due largely to the release of ISO55000x:2014 family of standards, Asset Management is gaining worldwide acceptance as a valid business practice for asset-intensive organizations. The challenge that organizations now face is how to operationalize the principles and move it from "being understood in theory" to being "the way that we work", to truly distill effective asset management practices and principles to the nooks and crannies of the organization. One key tenet of ISO55000x is the management of asset risk at all levels of asset interaction. On the other side, one area that has been struggling to understand asset management beyond maintenance management is the traditional Maintenance Department. This paper will capture the steps that Veolia North America is taking one of its Municipal Clients through to understand risk at the more granular levels and build risk resilience into its maintenance strategy.Yet for the average Maintenance Manager, the challenge of interpreting asset risk for the organization is still uncharted waters. There are several ways in which the traditional Maintenance Manager can understand the wide breadth of risks facing the asset, determine appropriate responses and communicate them to the appropriate stakeholders. In fact, one or more of these may already be in place in the organization but may not be seen as building risk resilience. This presentation will explore one methodology used by Veolia to develop an asset-centric, risk-based Maintenance Strategy at the City of Winnipeg's, Waste Water Treatment Plants using a Maintenance Management Maturity Assessment.The City of Winnipeg's Waste Water Department is at a very interesting juncture in its history, in that there are several major capital upgrades being undertaken, whilst the plants continue to run. The goal of the Maintenance Strategy is therefore two-fold. To maintain the existing levels of service at least whole life cost with risk balanced against the cost of meeting objectives, whilst ensuring that there is a plan to maximise maintenance for the future asset base to realise the benefit of the investment over the whole life of the assets. As a result, in 2016, in collaboration with its selected O&M improvement partner, Veolia North America, the City of Winnipeg's Waste Water Treatment Plants, went on a path of discovery. Two significant tools of investigation were employed: 1. An Asset Management Maturity Assessment was conducted and 2. The City participated in the National Waste Water Benchmarking Initiative (NWWBI) Maintenance Task Force Survey implemented by AECOM. The Asset Management Maturity Assessment examined 8 fundamental areas of Maintenance Management and outlined positions of excellence that the City hoped to achieve both at the 1-year and 3-year mark from the date of assessment with 2017 being Year 1. The NWWBI Maintenance Task Force Survey examined 42 granular yet, over-lapping areas of Maintenance Management, with 18 of them reporting significant gaps for the City's Waste Water Treatment Plants. The results of the two analyses were combined into eight (8) key Objectives and the underlying activities required to achieving them over the next three (3) years. These eight (8) Objectives are: 1. Implementation of Asset Condition Assessment Plan (ACAP) 2. Inventory Management Optimization Plan (IMOP) 3. Work Organization Improvement Plan (WOIP) 4. Implementation of Maintenance Quality Strategy (MQS) 5. Financial Capability Improvement Plan (FCIP) 6. Asset Registry Improvement Plan (ARIP) 7. Implementation of Document Management (DM) 8. Revision and Implementation of Asset Criticality Model (ACM)This presentation will examine the detailed plans for each objective, the inter-connectivity and alignment of the Objectives, the Road Map for the next 3 years, the processes for monitoring and continual improvement and the benefits of implementing this approach. Presented at MainTrain 2017

Key Components of Electrical Power System Maintenance

BoK Content Type:

Presentation Slides

Presentation Paper

As I spend more and more time in and around maintenance, reliability and asset management professionals, and though my own experiences as both an end user and now a contractor, it has become more and more clear that there is a definitive gap in most maintenance and reliability plans....the electrical system. This is not to say that there is not maintenance being done, or that people are not recognizing that their electrical system is critical. But do you understand what you are doing? Do you understand why? Is what is being done correct? Is the budget that is set aside for electrical adequate or too much? How do you know? What are the best practices and where do you start? As discussed this is not a technical presentation but rather a look at a basic electrical system and where an end user can start in regards to assuring themselves that they are doing the right things. There are some new technologies that are in the market place that can assist in determining if there is a potential problem with parts of your system...this presentation is not about those. Alternatively it is about "the basics", learning to walk before you can run: Looking at the system as a whole and learning where most trouble areas are; Assisting end-users in looking at past test results and planning next steps; Determining what needs to be done based on predictive tests such as transformer oil samples or IR scans, and what can be pushed into next year's budget; What cannot be skipped because, if it is, it may not only cause catastrophic plant failures but potential fatalities. In conclusion what this presentation will focus on is assisting Maintenance Management professionals to treat their electrical assets with the same care that they keep their mechanical assets. It is not overly technical and you do not have to be an electrical professional to understand or benefit.Presented at MainTrain 2017

Simplifying RCM to Achieve Value with a Risk-Based Asset Management Methodology

BoK Content Type:

Presentation Slides

Presentation Paper

Original date:

Thursday, September 22, 2016

Risk-Based Asset Management is a strategic management approach to physical assets that leverages an enabling technology such as SAP Plant Maintenance coupled with risk and failure based controls. This approach ensures optimum asset care to drive increased availability that creates value, resulting in higher profits. Today, increasing asset utilization and decreasing total cost of ownership are standard corporate objectives. Organizations must optimize asset performance to survive tough business conditions. The focus on continuous improvement and lean events to increase OEE, improve availability and reduce life cycle costs is now common place - but this approach doesn't go far enough. Faced with the lack of technically qualified people, an aging work force, and shrinking margins, organizations must consider risk when applying resources to asset management. This presentation will describe the process of cataloging physical assets by hierarchy, criticality and risk. Participants will receive an overview of risk and failure analysis and their linkage to controls, and discover how some common reliability analysis techniques can used to ensure continuous improvement.

Conditioned-based Maintenance Strategy for Shaganappi Pump Station

BoK Content Type:

Presentation Slides

Presentation Paper

Original date:

Tuesday, November 18, 2014

In 2012, Water launched a comprehensive program (Secondary Water Supply Facilities Rehabilitation Program) which included assessing the condition of 18 pump stations. The results of this program ranked the Shaganappi Pump Station as the most critical based on the condition of the equipment, the relatively large population and number of critical institutions it services. In this session you will learn how this pump station effectively implemented a condition-based maintenance strategy, and how you can utilize some of the learnings in your own environment to minimize and control risk, and create an effective infrastructure.

The Challenges of Monitoring Mobile Mining Equipment

BoK Content Type:

Presentation Slides

Presentation Paper

Original date:

Tuesday, September 29, 2015

Vibration measurement has come of age in the last 20 years. While the practice of continuous on-line monitoring of critical machines in the oil, gas, and petrochemical industries has been commonplace for several decades, it is only recently that companies who had been using intermittent data collection techniques are now embracing continuous monitoring. This session will discuss that the new horizon for continuous monitoring is mobile equipment; draglines, shovels, bucket-wheel excavators, stacker-reclaimers, heavy haul trucks, are all equally important to production and just as critical as a gas compressor. Participants will learn that, unlike stationary machinery, monitoring mobile equipment brings substantial challenges that must be addressed to ensure accurate, repeatable, and reliable data acquisition. Rapid speed and load variations are just one element of the application. The logistics of sensor mounting, cabling, network communications, and general serviceability bring unique complications to the task of monitoring these machines. Ron will discuss these obstacles and present new solutions that have the potential to bring significant reliability improvements to large mobile equipment.

Webcast: Condition Based Maintenance Strategy

BoK Content Type:

Presentation Slides

Webcast

Original date:

Friday, November 27, 2015

In 2012, Calgary Water launched a comprehensive program (Secondary Water Supply Facilities Rehabilitation Program) which included assessing the condition of 18 pump stations. The result of this program ranked Shaganappi Pump Station as the most critical based on the condition of the equipment, the relatively large population and number of critical institutions it services. Listen to this webcast and learn how this Calgary Water effectively implemented a condition-based maintenance strategy for this pump station, and how you can utilize some of the learnings in your own environment to minimize and control risk, and create an effective infrastructure.