02 Asset Management Decision Making
Shared Learning Library
Shared Learning Library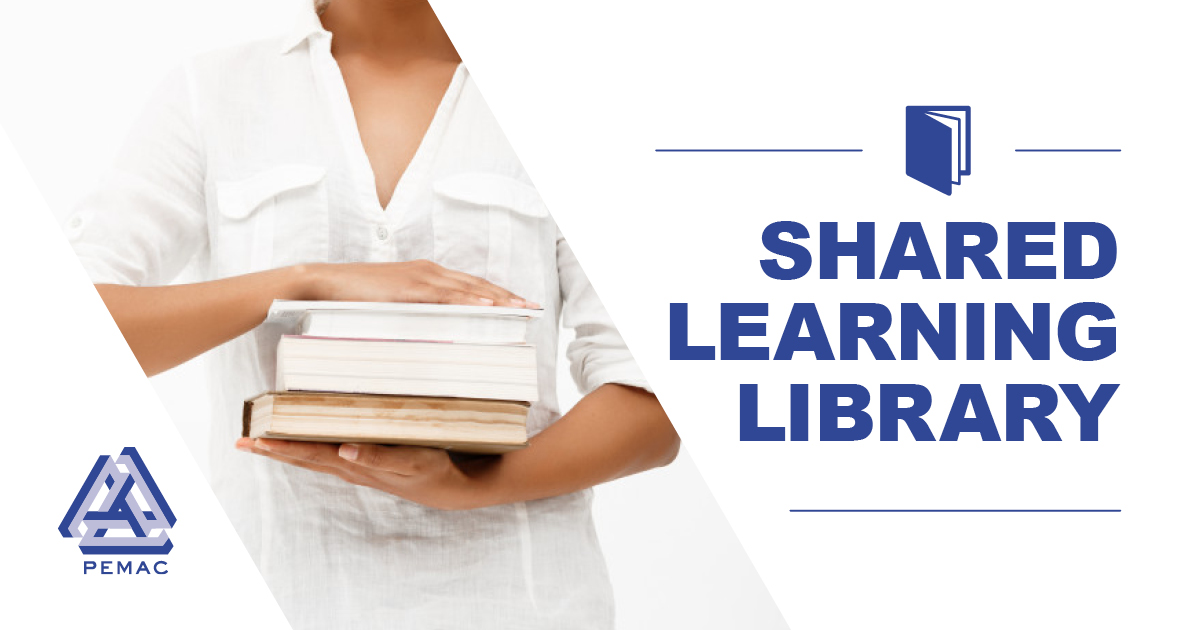 Welcome to PEMAC's Shared Learning Library, a growing body of community created knowledge, built up and maintained by the PEMAC member community. Explore a range of articles, presentations and webcasts covering a wide range of maintenance, reliability and asset management subject areas. You can even find presentations from past MainTrain conferences and PEMAC Lunch & Learn webcasts.
To easily find what you are looking for the content of the Shared Learning Library can be filtered by both Maintenance Management and Asset Management subject areas using the options in the menu to the left of the screen.
Displaying 1 - 13 of 13
Keynote: Recovery of Asset Management

Conditional Probability of Failure Patterns and their Impact to Maintenance

This article is to address the difference in conditional probability of failure patterns, and the impact on how best to maintain assets based upon those differences.

Maintenance Strategy Optimization – From the Bottom Up!

BoK Content Type:

Presentation Slides

Webcast

Presentation Paper

As the influence of the asset management approach continues to expand within Nova Scotia Power, we need a structured approach to ensure we continue to seek opportunities to optimize maintenance strategies. In a new installation, techniques such as failure modes and effects analysis (FMEA) and reliability centred maintenance (RCM) can be used to develop an optimized maintenance strategy from the start, in a top-down approach. However, the vast majority of Nova Scotia Power's equipment was in place long before the asset management office—and, therefore, the asset management approach—existed. The result of that is a collection of value-added, but developed after-the-fact maintenance strategies. Each maintenance strategy has components of operator surveillance (rounds), testing, predictive pattern recognition (also known as advanced pattern recognition, APR), predictive maintenance (condition-based monitoring and risk-based inspections), online monitoring, and preventative maintenance. While efforts had been made to "baseline" the equipment processes when maintenance strategies were developed (i.e., "clean out" existing activities), the organic growth of the approach and the distributed nature of assets and personnel have made this difficult to maintain. Therefore, we needed an approach to optimize existing maintenance strategies, without recreating them. Nova Scotia Power has therefore undertaken an effort known as maintenance strategy optimization, and has made this activity a core accountability for the asset management team, which recognizes the need to seek continuous improvement (vs. a one-time exercise). With a focus on digitization wherever appropriate, Nova Scotia Power has asked a number of questions to streamline, standardize, and optimize its maintenance strategies. Is there opportunity to reduce PM frequency? Is there opportunity to collect more information such that we can strengthen our APR models? Can our in-house standards be revalidated to sustainably reduce operating and maintenance costs? Nova Scotia Power is answering yes to these questions, and more, and pursuing opportunities to optimize its maintenance strategies—from the bottom up!

'Pumping' Technology into our 'Sewage Pumping Stations'

BoK Content Type:

Presentation Slides

Presentation Paper

"Sustainability through reliability" — presented at the 2015 MainTrain Conference — focused on the rapid growth of passenger flow at Toronto Pearson Airport and how, due to this growth, we were experiencing a high number of plumbing drainage failures. We carried out an RCA on our system and came up with changes in how we would prevent drainage failures. The changes we made dealt with our plumbing design standards; food and beverage tenant fats; oil and organics recovery system; lease agreements; and maintenance practices. However, that was only the starting point. In this presentation, we'll discuss RCA conducted, the failures experienced, and the enhancements and improvements we made to make our system more reliable.

Building the Business Case for Maintenance Improvement

While a host of factors influence profitability, maximizing your plant's production output potential is arguably one of the facility's greatest opportunities. An Asset Management, Reliability and Maintenance Strategic Plan can guide continuous improvement that's aligned with bottom-line performance expectations for managing assets and people. This presentation will provide a framework approach for establishing your strategic asset management & reliability plan and the associated business case. Delegates will gain a fundamental understanding of how to establish a baseline: "know where you are," define where you're going, who needs to be involved, how to measure the program's progress and results, and what elements are essential for success.

Democratizing Predictive Maintenance through the Industrial Internet of Things

BoK Content Type:

Presentation Slides

Presentation Paper

Original date:

Wednesday, February 28, 2018

With all the talk about big data and the IIoT, many are asking how can we use this in maintenance? The IIoT enables us to put sensors in any location where we might want to collect and analyze equipment condition and performance data. There are companies that offer predictive maintenance services, and some companies do this for themselves, in-house. Typically, it's the larger companies that can afford this, but democratization has meant this has become available to a much broader market. But there are hurdles to taking advantage of this sort of continuous monitoring program, even for your most critical equipment. One, it's expensive, whether you do it in-house or outsource. And two, there are data bottlenecks. Condition monitoring data comes is huge volumes and it's all time-sensitive. Even if you can afford it, you need a data handling network with a lot of capacity. In this workshop, we'll present a viable technical solution to the data bottleneck problem — based on a solution already proven in financial securities markets — that opens up these possibilities in the realm of plant continuous condition monitoring.

From Horseless Carriages to Cars – Disruptive Influencers and the Importance of Mindset Shift to Implement a Maintenance Management Strategy: A Case Study with JEFFBOAT

Original date:

Thursday, January 11, 2018

Jeffboat is a company with a long history. Originally named the Howard Steamboat Company, Jeffboat is America's largest inland ship builder and has been manufacturing ships for over 100 years. Jeffboat has built such famous ships as the Mississippi Queen, the General Jackson showboat and the Casino Aztar riverboat casino. Like most manufacturing firms, Jeffboat has an enormous amount of equipment stretched out over a shipyard that is over a mile in length that is needed to make its boats. Also like many old-line manufacturing firms, Jeffboat has both equipment and employees who have been there for several decades. Overall, because of the size of the shipyard and age of the equipment, Jeffboat's maintenance was used to working in reactive mode. There was no CMMS software in place and equipment was put into numerous Excel spreadsheets. In addition, it was often hit or miss whether the right parts were in the stores room and finding the right equipment often took maintenance technicians a significant amount of time. There was no Scheduler/Planner and maintenance procedures were done informally and based on need at that particular moment.When implementing a maintenance management strategy, a critical component is the resistance to change. Whether it is the introduction of new software or a complete overhaul of the maintenance function, the process of change represents disruptive technology (Christenson, …). According to Christenson, most changes are really improvements on something old and the old paradigms can be used. However, there are changes that organizations need to make that disrupt the dominant paradigm, rather than sustaining it. These are disruptive technologies and make the old things less important or obsolete. The problem with these disruptive changes is that people are still applying the old paradigms to the new realities. They are trying, in a sense, to understand the car as nothing more than a carriage without horses.

Uptime: Strategies for Excellence in Maintenance Management

Uptime describes the combination of activities that deliver fewer breakdowns, improved productive capacity, lower costs, and better environmental performance. The bestselling second edition of Uptime has been used as a textbook on maintenance management in several postsecondary institutions and by many companies as the model framework for their maintenance management programs.Following in the tradition of its bestselling predecessors, Uptime: Strategies for Excellence in Maintenance Management, Third Edition explains how to deal with increasingly complex technologies, such as mobile and cloud computing, to support maintenance departments and set the stage for compliance with international standards for asset management.This updated edition reflects a far broader and deeper wealth of experience and knowledge. In addition, it restructures its previous model of excellence slightly to align what must be done more closely with how to do it.The book provides a strategy for developing and executing improvement plans that work well with the new values prevalent in today's workforce. It also explains how you can use seemingly competing improvement tools to complement and enhance each other.This edition also highlights action you can take to compensate for the gradual loss of skills in the current workforce as "baby boomers" retire. This is the Text Book for Module 1 of the MMP Program. It is available through PEMAC, contact pd@pemac.org for information on ordering.

Debunking Risk Resiliency by Implementing a Risk-Based Maintenance Strategy

BoK Content Type:

Presentation Slides

Presentation Paper

Due largely to the release of ISO55000x:2014 family of standards, Asset Management is gaining worldwide acceptance as a valid business practice for asset-intensive organizations. The challenge that organizations now face is how to operationalize the principles and move it from "being understood in theory" to being "the way that we work", to truly distill effective asset management practices and principles to the nooks and crannies of the organization. One key tenet of ISO55000x is the management of asset risk at all levels of asset interaction. On the other side, one area that has been struggling to understand asset management beyond maintenance management is the traditional Maintenance Department. This paper will capture the steps that Veolia North America is taking one of its Municipal Clients through to understand risk at the more granular levels and build risk resilience into its maintenance strategy.Yet for the average Maintenance Manager, the challenge of interpreting asset risk for the organization is still uncharted waters. There are several ways in which the traditional Maintenance Manager can understand the wide breadth of risks facing the asset, determine appropriate responses and communicate them to the appropriate stakeholders. In fact, one or more of these may already be in place in the organization but may not be seen as building risk resilience. This presentation will explore one methodology used by Veolia to develop an asset-centric, risk-based Maintenance Strategy at the City of Winnipeg's, Waste Water Treatment Plants using a Maintenance Management Maturity Assessment.The City of Winnipeg's Waste Water Department is at a very interesting juncture in its history, in that there are several major capital upgrades being undertaken, whilst the plants continue to run. The goal of the Maintenance Strategy is therefore two-fold. To maintain the existing levels of service at least whole life cost with risk balanced against the cost of meeting objectives, whilst ensuring that there is a plan to maximise maintenance for the future asset base to realise the benefit of the investment over the whole life of the assets. As a result, in 2016, in collaboration with its selected O&M improvement partner, Veolia North America, the City of Winnipeg's Waste Water Treatment Plants, went on a path of discovery. Two significant tools of investigation were employed: 1. An Asset Management Maturity Assessment was conducted and 2. The City participated in the National Waste Water Benchmarking Initiative (NWWBI) Maintenance Task Force Survey implemented by AECOM. The Asset Management Maturity Assessment examined 8 fundamental areas of Maintenance Management and outlined positions of excellence that the City hoped to achieve both at the 1-year and 3-year mark from the date of assessment with 2017 being Year 1. The NWWBI Maintenance Task Force Survey examined 42 granular yet, over-lapping areas of Maintenance Management, with 18 of them reporting significant gaps for the City's Waste Water Treatment Plants. The results of the two analyses were combined into eight (8) key Objectives and the underlying activities required to achieving them over the next three (3) years. These eight (8) Objectives are: 1. Implementation of Asset Condition Assessment Plan (ACAP) 2. Inventory Management Optimization Plan (IMOP) 3. Work Organization Improvement Plan (WOIP) 4. Implementation of Maintenance Quality Strategy (MQS) 5. Financial Capability Improvement Plan (FCIP) 6. Asset Registry Improvement Plan (ARIP) 7. Implementation of Document Management (DM) 8. Revision and Implementation of Asset Criticality Model (ACM)This presentation will examine the detailed plans for each objective, the inter-connectivity and alignment of the Objectives, the Road Map for the next 3 years, the processes for monitoring and continual improvement and the benefits of implementing this approach. Presented at MainTrain 2017

Key Components of Electrical Power System Maintenance

BoK Content Type:

Presentation Slides

Presentation Paper

As I spend more and more time in and around maintenance, reliability and asset management professionals, and though my own experiences as both an end user and now a contractor, it has become more and more clear that there is a definitive gap in most maintenance and reliability plans....the electrical system. This is not to say that there is not maintenance being done, or that people are not recognizing that their electrical system is critical. But do you understand what you are doing? Do you understand why? Is what is being done correct? Is the budget that is set aside for electrical adequate or too much? How do you know? What are the best practices and where do you start? As discussed this is not a technical presentation but rather a look at a basic electrical system and where an end user can start in regards to assuring themselves that they are doing the right things. There are some new technologies that are in the market place that can assist in determining if there is a potential problem with parts of your system...this presentation is not about those. Alternatively it is about "the basics", learning to walk before you can run: Looking at the system as a whole and learning where most trouble areas are; Assisting end-users in looking at past test results and planning next steps; Determining what needs to be done based on predictive tests such as transformer oil samples or IR scans, and what can be pushed into next year's budget; What cannot be skipped because, if it is, it may not only cause catastrophic plant failures but potential fatalities. In conclusion what this presentation will focus on is assisting Maintenance Management professionals to treat their electrical assets with the same care that they keep their mechanical assets. It is not overly technical and you do not have to be an electrical professional to understand or benefit.Presented at MainTrain 2017

Reliability: Solving the Mystery and Breaking Paradigms

BoK Content Type:

Presentation Slides

Presentation Paper

Original date:

Tuesday, September 20, 2016

Reliability is a powerful concept that applied properly makes the difference between success and failure of installations, processes and systems; nevertheless, reliability does not need to be difficult, complex and overwhelming. Quite the opposite: reliability applications are more likely to succeed if they are easily understood by the different levels of the organization from trades to CEO. This is achieved by explaining reliability concepts easily understood by everyone within the organization.The general objective of the workshop is to provide theory and practical guidelines to the audience for identifying and addressing reliability issues that are impacting the productivity and profitability the assets they are responsible for.The workshop will provide basic knowledge and understanding regarding the tools and methodologies available within the reliability discipline, for the design, analysis and implementation of equipment strategies to systematically improve the performance of assets.At the end of the training the assistants will be able to:- Understand the current Reliability Engineering terminology- Understand and apply reliability concepts at all levels of the organization- Understand and overcome the typical reliability paradigms- Collect the adequate data and calculate basic maintenance and reliability Metrics- Understand the different reliability methodologies and the right application framework for each one- Combine different reliability methodologies to create an effective reliability program- Understand the role that Reliability Engineering plays within the Asset Management FrameworkThe workshop is specifically designed for current or future reliability engineers, maintenance supervisors and planners with maintenance, engineering and/or operations background that desire to be involved in improving reliability, availability and maintainability of assets through the application of modern reliability methodologies and tools.

Vibration Condition Monitoring Workshop for Managers Planners Engineers and Technicians

BoK Content Type:

Presentation Slides

Presentation Paper

Original date:

Monday, September 19, 2016

Vibration condition monitoring programs play an important role in an organization's rotating equipment reliability and maintenance strategy. While organizations may be in different stages of establishing their program, there are some common things to implement in order to get the greatest benefit from any program. This workshop focusses on starting your program off on the right foot. The workshop will use case histories to outline reasonable expectations, current vibration technology, and specific vibration standards for various industries.In addition to starting off on the right foot the success of a vibration condition monitoring program will depend on maintaining momentum. This workshop will finish by addressing areas within the participants program where they can focus on improving the long term reliability of their assets instead of simply finding failures.

Webcast: Setting up a Mechanical Integrity System for New Projects

BoK Content Type:

Presentation Slides

Webcast

Original date:

Wednesday, March 21, 2012

This presentation was given as an online lunch and learn sponsored by the Alberta Chapter. The case study covers an impressive project at Suncor in which a risk-based inspection program was set up (as part of an overall system-wide maintenance plan) on a greenfield project using 3D drawings. You can access both the Powerpoint presentation and the recording of the session here.