01 Strategy & Planning
Shared Learning Library
Shared Learning Library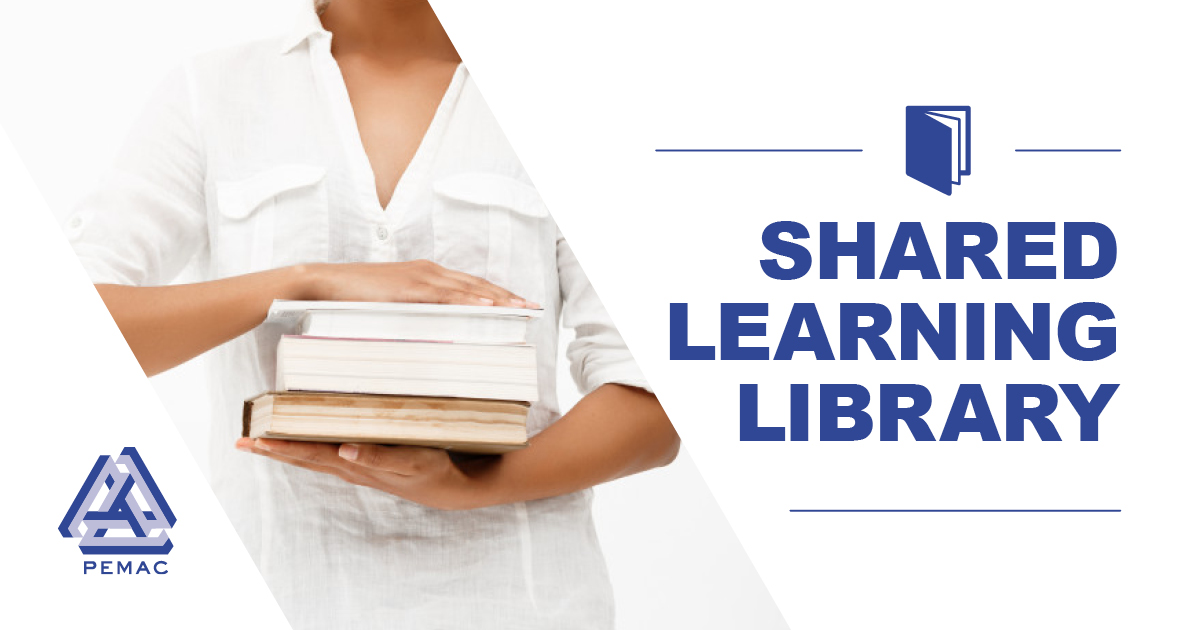 Welcome to PEMAC's Shared Learning Library, a growing body of community created knowledge, built up and maintained by the PEMAC member community. Explore a range of articles, presentations and webcasts covering a wide range of maintenance, reliability and asset management subject areas. You can even find presentations from past MainTrain conferences and PEMAC Lunch & Learn webcasts.
To easily find what you are looking for the content of the Shared Learning Library can be filtered by both Maintenance Management and Asset Management subject areas using the options in the menu to the left of the screen.
Displaying 1 - 11 of 11
Keynote: Recovery of Asset Management

Reliability and its relationship with Asset Management

Reliability keeps things going, Asset management delivers value with managed risksPEMAC Now Magazine Fall 2019

Maintenance Strategy Optimization – From the Bottom Up!

BoK Content Type:

Presentation Slides

Webcast

Presentation Paper

As the influence of the asset management approach continues to expand within Nova Scotia Power, we need a structured approach to ensure we continue to seek opportunities to optimize maintenance strategies. In a new installation, techniques such as failure modes and effects analysis (FMEA) and reliability centred maintenance (RCM) can be used to develop an optimized maintenance strategy from the start, in a top-down approach. However, the vast majority of Nova Scotia Power's equipment was in place long before the asset management office—and, therefore, the asset management approach—existed. The result of that is a collection of value-added, but developed after-the-fact maintenance strategies. Each maintenance strategy has components of operator surveillance (rounds), testing, predictive pattern recognition (also known as advanced pattern recognition, APR), predictive maintenance (condition-based monitoring and risk-based inspections), online monitoring, and preventative maintenance. While efforts had been made to "baseline" the equipment processes when maintenance strategies were developed (i.e., "clean out" existing activities), the organic growth of the approach and the distributed nature of assets and personnel have made this difficult to maintain. Therefore, we needed an approach to optimize existing maintenance strategies, without recreating them. Nova Scotia Power has therefore undertaken an effort known as maintenance strategy optimization, and has made this activity a core accountability for the asset management team, which recognizes the need to seek continuous improvement (vs. a one-time exercise). With a focus on digitization wherever appropriate, Nova Scotia Power has asked a number of questions to streamline, standardize, and optimize its maintenance strategies. Is there opportunity to reduce PM frequency? Is there opportunity to collect more information such that we can strengthen our APR models? Can our in-house standards be revalidated to sustainably reduce operating and maintenance costs? Nova Scotia Power is answering yes to these questions, and more, and pursuing opportunities to optimize its maintenance strategies—from the bottom up!

Case Studies on Maintenance Management and Reliability Improvement

BoK Content Type:

Presentation Slides

Presentation Paper

Even today, many organizations see maintenance as a necessary evil neglecting the importance it has toward attaining optimum business results. These organizations have maintenance managers, supervisors, and technicians who are responsible for the preservation of their physical assets. Upon talking to and sharing experience with many maintenance colleagues in various countries, I've learned that most maintenance supervisors and managers don't have a formal maintenance educational background, yet they must make important decisions regarding assets affecting their business's bottom line. We learn about maintenance the hard way, learning from equipment failures and guessing how to avoid them by applying what has resulted well in the past and what the equipment manufacturer tells us. When organizations realize they must do something about maintenance to improve their business bottom line, they're exposed to a lot of information about many tools boasting to offering what they need to do better. This presentation will showcase the results of various case studies performed by our consulting firm at crude oil pumping, pharmaceutical, and water treatment organizations located in North and South America. Several methodologies ranging from Uptime (Strategies for Excellence in Maintenance Management) to RCM-R, ACA, RCA, and even PdM were used to tackle situations at the strategic, tactic, and operational levels.

Demystifying Your R&M Pathway to Operational Success

BoK Content Type:

Presentation Slides

Presentation Paper

Metrics, best practices, more than 40 key elements to implement, challenges, and opportunities all combine to make a successful implementation difficult. Where do you start, and how do you know how to work on what matters? Once you understand how it's all related, you can focus on the vital few to leverage the maximum ROI. This presentation will clarify the importance of culture and employee engagement, along with other key plant floor performance indicators that will be clarified with data. We'll look at the current state of R&M; what's working and what's not; survival skills for the next decade; impacts of connected technologies (edge computing, big data, machine learning, AI, 3D printing, augmented reality); the importance of getting your data ready for what's coming next; and relationships between R&M and safety, people engagement, quality, throughput/uptime, and cost.

Root Cause Analysis: Driving Bottom Line Improvement by Preventing One Failure at a Time

BoK Content Type:

Presentation Slides

Webcast

Original date:

Thursday, February 28, 2019

Many maintenance and reliability staff are so busy fixing problems that they never get the chance to prevent them. In a reactive work environment, there is simply no time to spare. Root cause analysis (RCA) gives us an easy-to-implement approach to preventing failures that integrate with our current troubleshooting efforts and drives bottom-line business improvement. We can make our workplaces safer by reducing the number of unexpected failures, which will then result in improving our business performance, increasing our facility's throughput and reducing the money spent on repairs – straight to the bottom line.

Building the Business Case for Maintenance Improvement

While a host of factors influence profitability, maximizing your plant's production output potential is arguably one of the facility's greatest opportunities. An Asset Management, Reliability and Maintenance Strategic Plan can guide continuous improvement that's aligned with bottom-line performance expectations for managing assets and people. This presentation will provide a framework approach for establishing your strategic asset management & reliability plan and the associated business case. Delegates will gain a fundamental understanding of how to establish a baseline: "know where you are," define where you're going, who needs to be involved, how to measure the program's progress and results, and what elements are essential for success.

Uptime: Strategies for Excellence in Maintenance Management

Uptime describes the combination of activities that deliver fewer breakdowns, improved productive capacity, lower costs, and better environmental performance. The bestselling second edition of Uptime has been used as a textbook on maintenance management in several postsecondary institutions and by many companies as the model framework for their maintenance management programs.Following in the tradition of its bestselling predecessors, Uptime: Strategies for Excellence in Maintenance Management, Third Edition explains how to deal with increasingly complex technologies, such as mobile and cloud computing, to support maintenance departments and set the stage for compliance with international standards for asset management.This updated edition reflects a far broader and deeper wealth of experience and knowledge. In addition, it restructures its previous model of excellence slightly to align what must be done more closely with how to do it.The book provides a strategy for developing and executing improvement plans that work well with the new values prevalent in today's workforce. It also explains how you can use seemingly competing improvement tools to complement and enhance each other.This edition also highlights action you can take to compensate for the gradual loss of skills in the current workforce as "baby boomers" retire. This is the Text Book for Module 1 of the MMP Program. It is available through PEMAC, contact pd@pemac.org for information on ordering.

Debunking Risk Resiliency by Implementing a Risk-Based Maintenance Strategy

BoK Content Type:

Presentation Slides

Presentation Paper

Due largely to the release of ISO55000x:2014 family of standards, Asset Management is gaining worldwide acceptance as a valid business practice for asset-intensive organizations. The challenge that organizations now face is how to operationalize the principles and move it from "being understood in theory" to being "the way that we work", to truly distill effective asset management practices and principles to the nooks and crannies of the organization. One key tenet of ISO55000x is the management of asset risk at all levels of asset interaction. On the other side, one area that has been struggling to understand asset management beyond maintenance management is the traditional Maintenance Department. This paper will capture the steps that Veolia North America is taking one of its Municipal Clients through to understand risk at the more granular levels and build risk resilience into its maintenance strategy.Yet for the average Maintenance Manager, the challenge of interpreting asset risk for the organization is still uncharted waters. There are several ways in which the traditional Maintenance Manager can understand the wide breadth of risks facing the asset, determine appropriate responses and communicate them to the appropriate stakeholders. In fact, one or more of these may already be in place in the organization but may not be seen as building risk resilience. This presentation will explore one methodology used by Veolia to develop an asset-centric, risk-based Maintenance Strategy at the City of Winnipeg's, Waste Water Treatment Plants using a Maintenance Management Maturity Assessment.The City of Winnipeg's Waste Water Department is at a very interesting juncture in its history, in that there are several major capital upgrades being undertaken, whilst the plants continue to run. The goal of the Maintenance Strategy is therefore two-fold. To maintain the existing levels of service at least whole life cost with risk balanced against the cost of meeting objectives, whilst ensuring that there is a plan to maximise maintenance for the future asset base to realise the benefit of the investment over the whole life of the assets. As a result, in 2016, in collaboration with its selected O&M improvement partner, Veolia North America, the City of Winnipeg's Waste Water Treatment Plants, went on a path of discovery. Two significant tools of investigation were employed: 1. An Asset Management Maturity Assessment was conducted and 2. The City participated in the National Waste Water Benchmarking Initiative (NWWBI) Maintenance Task Force Survey implemented by AECOM. The Asset Management Maturity Assessment examined 8 fundamental areas of Maintenance Management and outlined positions of excellence that the City hoped to achieve both at the 1-year and 3-year mark from the date of assessment with 2017 being Year 1. The NWWBI Maintenance Task Force Survey examined 42 granular yet, over-lapping areas of Maintenance Management, with 18 of them reporting significant gaps for the City's Waste Water Treatment Plants. The results of the two analyses were combined into eight (8) key Objectives and the underlying activities required to achieving them over the next three (3) years. These eight (8) Objectives are: 1. Implementation of Asset Condition Assessment Plan (ACAP) 2. Inventory Management Optimization Plan (IMOP) 3. Work Organization Improvement Plan (WOIP) 4. Implementation of Maintenance Quality Strategy (MQS) 5. Financial Capability Improvement Plan (FCIP) 6. Asset Registry Improvement Plan (ARIP) 7. Implementation of Document Management (DM) 8. Revision and Implementation of Asset Criticality Model (ACM)This presentation will examine the detailed plans for each objective, the inter-connectivity and alignment of the Objectives, the Road Map for the next 3 years, the processes for monitoring and continual improvement and the benefits of implementing this approach. Presented at MainTrain 2017

Reliability Centered Maintenance (RCM) - KPI's for Measuring Success

This paper was developed as a collaboration between PEMAC members at the initiative of the GTA Chapter. The purpose of the paper is to provide maintenance and reliability professionals with the key KPI's that should be used to measure the effectiveness and success of an RCM program. First the whitepaper will explore where and when to apply RCM.Reliability Centered Maintenance (RCM) is a rigorous risk management methodology widely used to improve the availability of physical assets by determining the optimal failure management strategies for those assets in their present or planned operating context. Because it is a resource intensive methodology it is typically used in high-risk mission-critical contexts. The failure management strategies that are output from an RCM analysis might include preventive maintenance, predictive maintenance, run-to-failure strategies, and design or operating process changes. RCM produces an array of business benefits including:  Increased reliability and availability leading to increased levels of production or service delivery capability, potentially increasing revenue  Increased levels of quality and precision,  Increased levels of compliance with environmental regulations and standards  Increased levels of safety, and  Lower operating costs. These benefits translate into increased business stability and predictability which can lead to more favorable treatment by investors, lenders and insurers, and preferred supplier status for customers. When considering or implementing a methodology like RCM, it is important to understand the circumstances for which RCM is best suited and how best to measure success should you move forward with an RCM program. The purpose of this whitepaper is to provide maintenance and reliability professionals with the key KPI's that should be used to measure the effectiveness and success of an RCM program. First the whitepaper will explore where and when to apply RCM.

Getting to the Bottom of Things

BoK Content Type:

Presentation Slides

Webcast

Original date:

Tuesday, October 20, 2015

How can we be sure that our efforts to correct deficiencies are going to derive value for our organization? Do we fully understand that our area of focus is the right one? In this webcast we discuss how we often deal with symptoms and not the specific problem. We identify the tools that will help point us in the right direction and figure out how we can develop them. We examine the standard approaches to arriving at the root cause, discuss some that don't work, and identify systemic causes that seem to provide the best results. Learn how to understand the links in front of you when it comes to solving your problem.