Webcast
Shared Learning Library
Shared Learning Library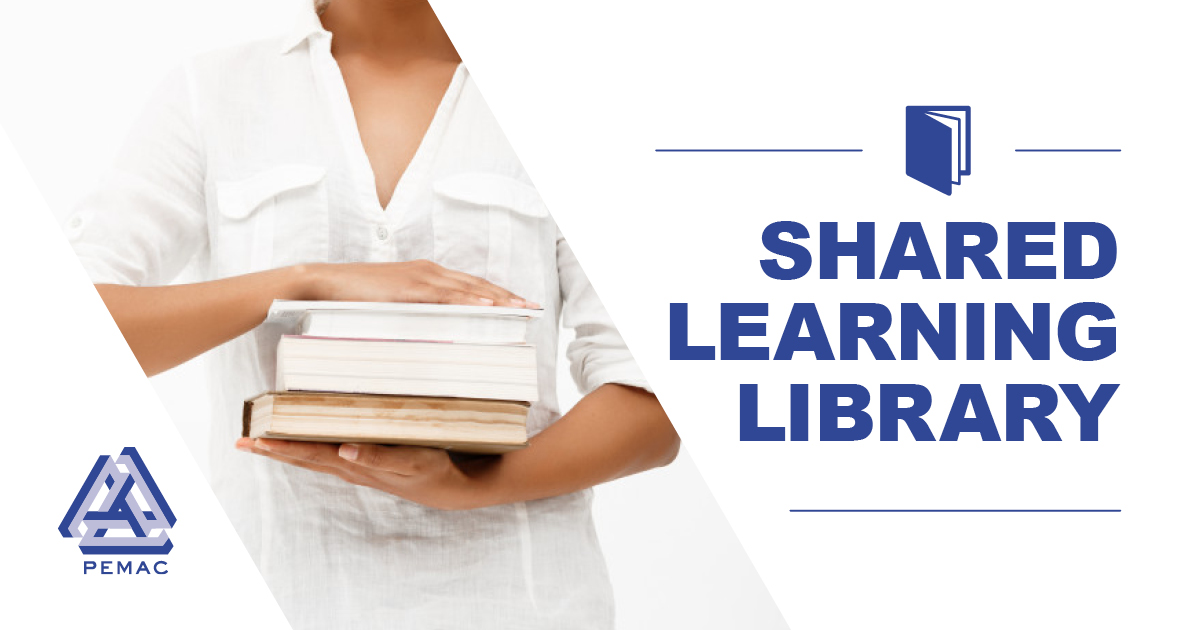 Welcome to PEMAC's Shared Learning Library, a growing body of community created knowledge, built up and maintained by the PEMAC member community. Explore a range of articles, presentations and webcasts covering a wide range of maintenance, reliability and asset management subject areas. You can even find presentations from past MainTrain conferences and PEMAC Lunch & Learn webcasts.
To easily find what you are looking for the content of the Shared Learning Library can be filtered by both Maintenance Management and Asset Management subject areas using the options in the menu to the left of the screen.
Displaying 1 - 10 of 10
How to Set a Winning Reliability Strategy

BoK Content Type:

Presentation Slides

Webcast

Checklist Manifesto for Maintenance

BoK Content Type:

Presentation Slides

Webcast

Is safety a concern for your organization? What about reliability? How is it that aviation is able to ensure such safe operations? Yes, that industry has trained pilots with lots of experience, but that alone is not enough. Doctors are well trained, as are our skilled tradespeople, yet mistakes are common. So how do we overcome those mistakes? The Checklist Manifesto shows how checklists have, and can, make such a significant difference in the aviation, medical, and construction fields. Why not learn from these industries and apply that same methodology to our maintenance programs? Developing a checklist is not as simple as throwing a bunch of steps on a piece of paper and handing it to our skilled tradespeople. Checklists have to be simple and address the right issues. We also have to overcome some stigma to get our tradespeople to use them.

Deciding what can be deferred - revisiting criticality assessments. Part 2 of a 5 part round table series on COVID-19 response.

BoK Content Type:

Presentation Slides

Webcast

Even under normal circumstances, most of us have difficulty finding the time to do what we need to do – under these uncertain times it is exponentially harder. What can count on in one month, two months – even two days? For those organizations who are still up and running and for those hoping to come back up and hit the ground running – there are definite challenges. In this discussion we will look at these challenges and hopefully give you some hints to help decide – what can be deferred and how you can keep that to the minimum.

Root Cause Analysis: Driving Bottom Line Improvement by Preventing One Failure at a Time

BoK Content Type:

Presentation Slides

Webcast

Original date:

Thursday, February 28, 2019

Many maintenance and reliability staff are so busy fixing problems that they never get the chance to prevent them. In a reactive work environment, there is simply no time to spare. Root cause analysis (RCA) gives us an easy-to-implement approach to preventing failures that integrate with our current troubleshooting efforts and drives bottom-line business improvement. We can make our workplaces safer by reducing the number of unexpected failures, which will then result in improving our business performance, increasing our facility's throughput and reducing the money spent on repairs – straight to the bottom line.

Reliability Centered Maintenance Re-Engineered RCM-R(r) - An Introduction

BoK Content Type:

Presentation Slides

Webcast

Presentation Paper

Reliability Centered Maintenance – Reengineered, provides an optimized approach to a well established and highly successful method used for determining failure management policies for physical assets. It makes the original method that was developed to enhance flight safety, far more useful in a broad range of industries where asset criticality ranges from high to low. RCM-R® is focused on the science of failures and what must be done to enable long term sustainably reliable operations. If used correctly, RCM-R® is the first step in delivering fewer breakdowns, more productive capacity, lower costs, safer operations and improved environmental performance. Maintenance has a huge impact on most businesses whether its presence is felt or not. RCM-R® ensures that the right work is done to guarantee there are as few nasty surprises as possible that can harm the business in any way. RCM-R® addresses the shortfalls of RCM that have inhibited its broad acceptance in industry. Little new work has been done in the field of RCM since the 1990's, yet demand for such a method, better adapted to industrial applications is higher than ever and growing. Demographics and ever more complex systems are driving a need to be more efficient in our use of skilled maintenance resources while ensuring first time success – greater effectiveness is needed. RCM-R® was developed to leverage on RCM's original success at delivering that effectiveness while addressing the concerns of the industrial market. RCM-R® addresses the RCM method and shortfalls in its application. It modifies the method to consider asset and even failure mode criticality so that rigor is applied only where it is truly needed. It removes (within reason) the sources of concern about RCM being overly rigorous and too labor intensive without compromising on its ability to deliver a tailored failure management program for physical assets sensitive to their operational context and application. RCM-R® also provides its practitioners with standard based guidance for determining meaningful failure modes and causes facilitating their analysis for optimum outcome. It places RCM into the Asset Management spectrum strengthening the original method by introducing International Standard based risk management methods for assessing failure risks formally. RCM-R® employs quantitative reliability methods tailoring evidence based decision making whenever historical failure data is available.

PM ou PdM - où est l'équilibre ? - 15 octobre 2016

Original date:

Saturday, October 15, 2016

PM ou PdM - où est l'équilibre ?- Défaillance dans le cycle de vie- Les différents patron de défaillances (RCM)- Criticité et contexte opérationnel- Les différentes tactiques possibles- Introduction à la courbe PF- Comment choisir la bonne tactique

Building the Business Case for Maintenance Improvement

While a host of factors influence profitability, maximizing your plant's production output potential is arguably one of the facility's greatest opportunities. An Asset Management, Reliability and Maintenance Strategic Plan can guide continuous improvement that's aligned with bottom-line performance expectations for managing assets and people. This presentation will provide a framework approach for establishing your strategic asset management & reliability plan and the associated business case. Delegates will gain a fundamental understanding of how to establish a baseline: "know where you are," define where you're going, who needs to be involved, how to measure the program's progress and results, and what elements are essential for success.

Webcast: Setting up a Mechanical Integrity System for New Projects

BoK Content Type:

Presentation Slides

Webcast

Original date:

Wednesday, March 21, 2012

This presentation was given as an online lunch and learn sponsored by the Alberta Chapter. The case study covers an impressive project at Suncor in which a risk-based inspection program was set up (as part of an overall system-wide maintenance plan) on a greenfield project using 3D drawings. You can access both the Powerpoint presentation and the recording of the session here.

Webcast: Condition Based Maintenance Strategy

BoK Content Type:

Presentation Slides

Webcast

Original date:

Friday, November 27, 2015

In 2012, Calgary Water launched a comprehensive program (Secondary Water Supply Facilities Rehabilitation Program) which included assessing the condition of 18 pump stations. The result of this program ranked Shaganappi Pump Station as the most critical based on the condition of the equipment, the relatively large population and number of critical institutions it services. Listen to this webcast and learn how this Calgary Water effectively implemented a condition-based maintenance strategy for this pump station, and how you can utilize some of the learnings in your own environment to minimize and control risk, and create an effective infrastructure.

Proactive Process Development

BoK Content Type:

Presentation Slides

Webcast

Original date:

Thursday, January 14, 2016

James Gunn, one of PEMAC's 2015 Capstone Project Winners in the Business Process category, presents his Maintenance Management Professional Capstone Project: Proactive Process Development, during this lunch and learn webcast. The Capstone is the final project course of the Maintenance Management Professional program. Serving as an introduction to Lake Utopia Paper's operation, this MMP capstone project dives into the reactive maintenance practices of a corrugating medium paper mill, and examines tactics to develop a proactive maintenance culture. Acting as a proof of concept, this project narrows its scope to focus on the pumps and rolls around the paper machine. With a core focus on developing proactive tactics, the project is expanded to also provide analysis of inventory optimization and workforce management practices to drive cost initiatives and engagement. Even as a proof of concept, the application provides a structure that is able to be deployed to all areas of the facility. The payback period for this project is less than one year, provides a Year 5 net present value in excess of $1.7M, and an internal rate of return of 170%.James Gunn has been involved in maintenance and engineering for the last 12 years, working as a Professional Engineer in a variety of fields, including aerospace, automotive, food & beverage, and pulp & paper. Starting his MMP education while working with JD Irving's Lake Utopia Paper operation as a Mechanical Maintenance Team Lead, James is now the Director of Maintenance and Engineering for JD Irving's Irving Consumer Products division.