Presentation Slides
Shared Learning Library
Shared Learning Library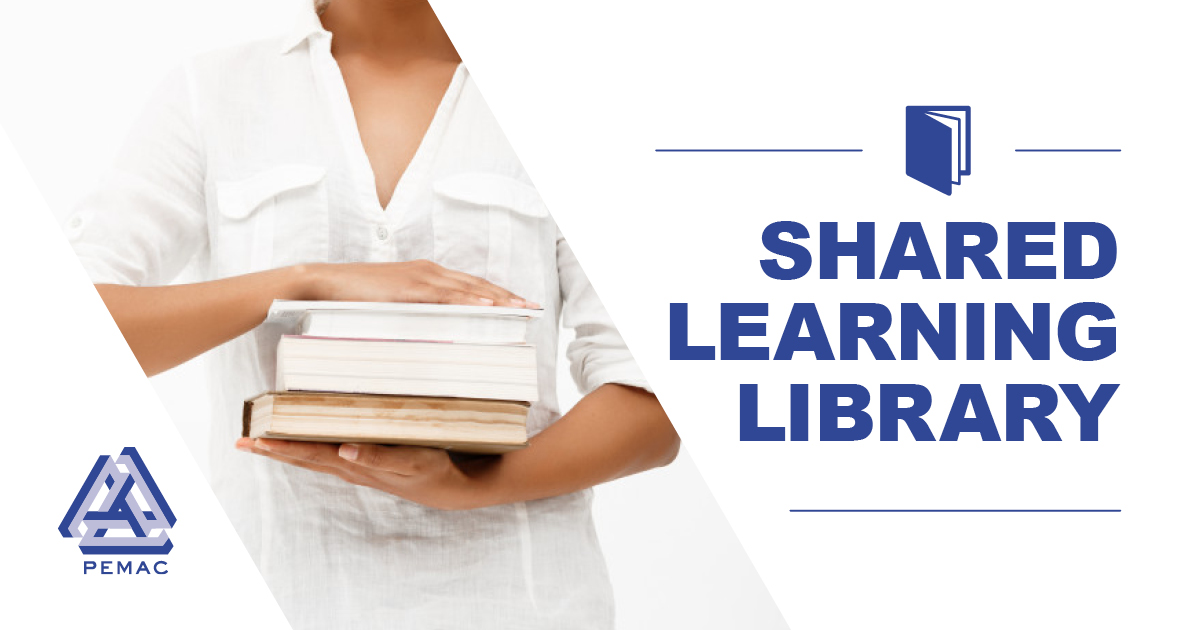 Welcome to PEMAC's Shared Learning Library, a growing body of community created knowledge, built up and maintained by the PEMAC member community. Explore a range of articles, presentations and webcasts covering a wide range of maintenance, reliability and asset management subject areas. You can even find presentations from past MainTrain conferences and PEMAC Lunch & Learn webcasts.
To easily find what you are looking for the content of the Shared Learning Library can be filtered by both Maintenance Management and Asset Management subject areas using the options in the menu to the left of the screen.
Displaying 1 - 14 of 14
How to Set a Winning Reliability Strategy

BoK Content Type:

Presentation Slides

Webcast

Asset Knowledge Primacy - AB Chapter Online Symposium (Part 6 of 7)

BoK Content Type:

Presentation Slides

Webcast

Not all asset information is equal. Asset owning organizations benefit from having the right information at the right time. Asset knowledge primacy, an imperative to deliver operational excellence throughout the asset lifecycle. What is asset knowledge primacy? As the asset is developed and matures, stakeholders must calibrate data collection and exchange while curating fit-for-purpose asset information. Consistent thought-in-action leads to precision timing, relevance, and accuracy of information delivery. Successful asset knowledge capture is rarely accomplished efficiently or effectively. This doesn't have to be so. In this presentation Chris Murphy will share an approach to provide asynchronous asset information delivery to best serve the life of the asset and support the organization to deliver value from the assets.

Line Intervention Execution Overview - AB Chapter Online Symposium (Part 4 of 7)

BoK Content Type:

Presentation Slides

Webcast

On behalf of TEAM Industrial Services (TISI Canada Inc.), we are pleased to submit this abstract for consideration. Line Intervention is the means of isolating a piping system that has no other means of isolation. TEAM will outline our industry leading methods for keeping critical piping and pressure vessels online during repairs and modifications. We can speak to successful work executed on 600lb steam lines, 84" water lines, and everything in between. + Hot tapping provides a safe, reliable, and effective means to create a branch connection on "live" piping and pressure vessels while they continue to remain in service. + Successful line stops are the key to continued safe and effective operations of platforms, pipelines, and process facilities. A single line stop can be used to stop and abandon a shutdown. Two or more line stops can be used in tandem to isolate and bypass many intersecting lines at once. Fluid in the line is bypassed, leaving a workable dead section to alter, repair or add a valve while the line remains in service. TEAM is the only global provider of truly integrated digitally enabled asset integrity solutions that result in greater safety, reliability, and operational efficiency across an entire supply chain. Through our unique value drivers, our global TEAM of subject matter experts develop comprehensive solutions, reducing downtime and keeping critical systems up and running.

Asset Management implications, how will your organization emerge from its post-pandemic cocoon? Part 5 of a 5 part round table series on COVID-19 response.

BoK Content Type:

Presentation Slides

Webcast

There will be a new normal in the aftermath of this global viral pandemic. Some of it will be out of our control and will happen to us. But some of it is within our control and presents an opportunity for significant improvement. Join us as we discuss the opportunities in asset management we can and should consider to make the best of our adversity to emerge renewed and improved.The article Paul wrote on Medium should be preread to set the stageAnd Now for Something Completely Different

Working from home? Leverage this time to analyze and improve your maintenance data! Part 3 of a 5 part round table series on COVID-19 response.

BoK Content Type:

Presentation Slides

Webcast

With many people at home either due to the closure of their operations, self-isolation protocols, or as a proactive measure to reduce non-essential staff on site, some might question how these individuals can be productive, particularly when assets are not operating. However, if employees have access to their CMMS/EAM/ERP data systems from home, here are some value-added activities that employees and employers should consider undertaking given the time they now have. Note these are in no particular order as priorities would be context-specific, and specific procedures are omitted for this same reason.

Deciding what can be deferred - revisiting criticality assessments. Part 2 of a 5 part round table series on COVID-19 response.

BoK Content Type:

Presentation Slides

Webcast

Even under normal circumstances, most of us have difficulty finding the time to do what we need to do – under these uncertain times it is exponentially harder. What can count on in one month, two months – even two days? For those organizations who are still up and running and for those hoping to come back up and hit the ground running – there are definite challenges. In this discussion we will look at these challenges and hopefully give you some hints to help decide – what can be deferred and how you can keep that to the minimum.

Root Cause Analysis: Driving Bottom Line Improvement by Preventing One Failure at a Time

BoK Content Type:

Presentation Slides

Webcast

Original date:

Thursday, February 28, 2019

Many maintenance and reliability staff are so busy fixing problems that they never get the chance to prevent them. In a reactive work environment, there is simply no time to spare. Root cause analysis (RCA) gives us an easy-to-implement approach to preventing failures that integrate with our current troubleshooting efforts and drives bottom-line business improvement. We can make our workplaces safer by reducing the number of unexpected failures, which will then result in improving our business performance, increasing our facility's throughput and reducing the money spent on repairs – straight to the bottom line.

Establishing a Governance Model to support AM Development

BoK Content Type:

Presentation Slides

Webcast

Presentation Paper

Original date:

Thursday, December 13, 2018

The structural configuration of an organizational design is the way work is divided and how it achieves co-ordination among its various work activities around the assets' lifecycles. An organizational design structure resolves two basic tasks to get work done: dividing up the work into logical units, which enables performance management, and ensuring the work gets done by providing the co-ordination and control of work. In this webcast we'll look at four models and discuss their advantages and disadvantages and present suitable information on typical roles and responsibilities that will be reflective of the selected model. The goal of asset management (AM) is to ensure that an organization's staff is always working on the right activities at the right time, for the right reason, and for right cost. The AM governance model is intended to ensure there is effective collaboration and co-ordination to make this happen around all business processes. With the right AM governance model, overall AM program development can be expedited and new ways of working can be quickly integrated into the organization's AM culture. We'll provide the actual results from a number of case studies to demonstrate the value of designing and implementing the most appropriate AM governance model for your organization.

Reliability Centered Maintenance Re-Engineered RCM-R(r) - An Introduction

BoK Content Type:

Presentation Slides

Webcast

Presentation Paper

Reliability Centered Maintenance – Reengineered, provides an optimized approach to a well established and highly successful method used for determining failure management policies for physical assets. It makes the original method that was developed to enhance flight safety, far more useful in a broad range of industries where asset criticality ranges from high to low. RCM-R® is focused on the science of failures and what must be done to enable long term sustainably reliable operations. If used correctly, RCM-R® is the first step in delivering fewer breakdowns, more productive capacity, lower costs, safer operations and improved environmental performance. Maintenance has a huge impact on most businesses whether its presence is felt or not. RCM-R® ensures that the right work is done to guarantee there are as few nasty surprises as possible that can harm the business in any way. RCM-R® addresses the shortfalls of RCM that have inhibited its broad acceptance in industry. Little new work has been done in the field of RCM since the 1990's, yet demand for such a method, better adapted to industrial applications is higher than ever and growing. Demographics and ever more complex systems are driving a need to be more efficient in our use of skilled maintenance resources while ensuring first time success – greater effectiveness is needed. RCM-R® was developed to leverage on RCM's original success at delivering that effectiveness while addressing the concerns of the industrial market. RCM-R® addresses the RCM method and shortfalls in its application. It modifies the method to consider asset and even failure mode criticality so that rigor is applied only where it is truly needed. It removes (within reason) the sources of concern about RCM being overly rigorous and too labor intensive without compromising on its ability to deliver a tailored failure management program for physical assets sensitive to their operational context and application. RCM-R® also provides its practitioners with standard based guidance for determining meaningful failure modes and causes facilitating their analysis for optimum outcome. It places RCM into the Asset Management spectrum strengthening the original method by introducing International Standard based risk management methods for assessing failure risks formally. RCM-R® employs quantitative reliability methods tailoring evidence based decision making whenever historical failure data is available.

Creating an Asset Management Roadmap Using Process Improvement Methodology: Joint webcast with PEMAC & SMRP

BoK Content Type:

Presentation Slides

Webcast

Asset Management Roadmaps aren't always perfect. Often they are a work in progress. In this webcast participants will see the journey that EPCOR Water Services Inc. (EWSI) undertook when developing its Asset Management Roadmap/Framework, and learn that even with challenges along the way, the organization overall ended up with a greater understanding and acceptance of asset management.EWSI's initial framework, developed in 2011, was closely aligned with BSI PAS 55 and later revised to reflect ISO 55000 standards. Participants will learn more about the organization's first attempt at a typical management system development process that took place over the next 24 month period, and see how this initial approach was unsuccessful.With lessons learned, the organization revised its approach in 2013, looking at asset management related gaps with EWSI operations and used process improvement methodology to develop procedures and tools to resolve those gaps. One of the major gaps identified was lack of asset management plans. The next year, a pilot project focusing on the 10-Steps of asset management (SIMPLE) was completed.Participants will see how this pilot project demonstrated the start-to-finish development of an asset management plan, and the development and field testing of several standards, procedures and tools that would become part of EWSI's asset management framework. This approach demonstrated the value of asset management, resulting in greater understanding and acceptance of asset management throughout EWSI.

Evidence Based Selection of Maintenance Approaches

BoK Content Type:

Presentation Slides

Presentation Paper

Original date:

Friday, December 21, 2012

The decision making grid (DMG) is a model that classifies maintenance approaches and then help in the selection of the maintenance strategy based on evidence produced from the data collected in Computerised Maintenance Management Systems (CMMS) or Enterprise Resource Planning (ERP)Systems. In this paper we demonstrate three phases for a successful implementation of the DMG model.

Webcast: Maintenance Crew Performance Management Through KPIs

BoK Content Type:

Presentation Slides

Webcast

Original date:

Thursday, September 17, 2015

Maintenance performance management through KPIs is often not effective because indicators are not visible or understandable at the floor level. Many companies may also not have financial resources to invest in 'high tech' display monitors in the workplace and if they do, content may not be sufficient for specific crew performance measurement and engagement.In this webcast, J.-P will review how KPIs were introduced to maintenance crews and the entire site as part of the Operational Reliability program launched at Cameco's Port Hope conversion facility through simply tools and how concepts of change management were used. See how KPIs could be used at your own organization and what kind of impact they could have.

Webcast: Condition Based Maintenance Strategy

BoK Content Type:

Presentation Slides

Webcast

Original date:

Friday, November 27, 2015

In 2012, Calgary Water launched a comprehensive program (Secondary Water Supply Facilities Rehabilitation Program) which included assessing the condition of 18 pump stations. The result of this program ranked Shaganappi Pump Station as the most critical based on the condition of the equipment, the relatively large population and number of critical institutions it services. Listen to this webcast and learn how this Calgary Water effectively implemented a condition-based maintenance strategy for this pump station, and how you can utilize some of the learnings in your own environment to minimize and control risk, and create an effective infrastructure.

Proactive Process Development

BoK Content Type:

Presentation Slides

Webcast

Original date:

Thursday, January 14, 2016

James Gunn, one of PEMAC's 2015 Capstone Project Winners in the Business Process category, presents his Maintenance Management Professional Capstone Project: Proactive Process Development, during this lunch and learn webcast. The Capstone is the final project course of the Maintenance Management Professional program. Serving as an introduction to Lake Utopia Paper's operation, this MMP capstone project dives into the reactive maintenance practices of a corrugating medium paper mill, and examines tactics to develop a proactive maintenance culture. Acting as a proof of concept, this project narrows its scope to focus on the pumps and rolls around the paper machine. With a core focus on developing proactive tactics, the project is expanded to also provide analysis of inventory optimization and workforce management practices to drive cost initiatives and engagement. Even as a proof of concept, the application provides a structure that is able to be deployed to all areas of the facility. The payback period for this project is less than one year, provides a Year 5 net present value in excess of $1.7M, and an internal rate of return of 170%.James Gunn has been involved in maintenance and engineering for the last 12 years, working as a Professional Engineer in a variety of fields, including aerospace, automotive, food & beverage, and pulp & paper. Starting his MMP education while working with JD Irving's Lake Utopia Paper operation as a Mechanical Maintenance Team Lead, James is now the Director of Maintenance and Engineering for JD Irving's Irving Consumer Products division.