Last Chance to Register - Asset Management Spring Program
The Spring offering of PEMAC's Asset Management Professional (AMP) program starts next week! Registration is still open, but be sure to sign up quickly to ensure your spot in one of these classes. Start your journey to a higher level of asset management knowledge now.
The AMP program provides an in-depth and comprehensive analysis of the latest in strategic asset management thinking from recognized global organizations. Participants are provided with a big picture perspective of AM, and the tools to develop the capacity to engage others and build their knowledge and skill in key subject areas such as risk management, knowledge management (enterprise database systems) and are introduced to tools for strategic decision making at each stage of the asset lifecycle.
Designed for mid-career professionals from a variety of backgrounds (IT, engineering and business management) who have responsibility for managing decisions with respect to the core life cycle functions such as design, selection, operation, maintenance of an organization's assets, the AMP program offers strategic asset management thinking from recognized global organizations.
The program has been developed by PEMAC, a not-for-profit association, with reference to both ISO 5500x and the Asset Management Landscape produced by the Global Forum for Maintenance and Asset Management, participants gain a comprehensive understanding of asset management.

Delivered in an asynchronous online learning environment through Humber College, this program is ideal from AM professionals from across Canada and around the world, in any time zone.
Participants who successfully complete all of the modules are eligible for the Certified Asset Management Professional (CAMP) certification - a designation that is recognized by a growing list of professional bodies and government institutions.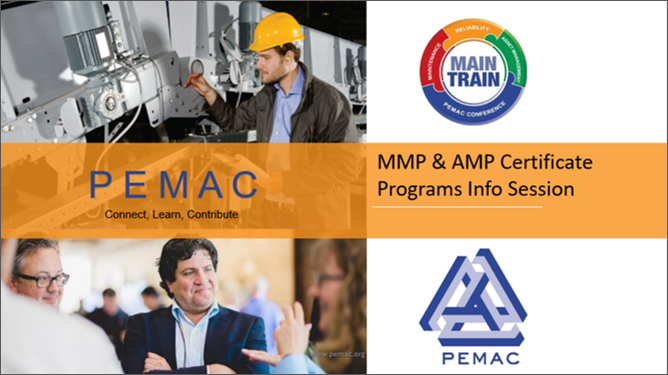 Learn more about the AMP program by attending a complimentary information session or listening to a previously recorded webcast session.

Registration is now open for Spring courses! Click here for complete details. Or contact Lisa Tubia at (416) 675-6622 ext 4159 or email Lisa.Tubia@humber.ca.
Whether you are just beginning the program, or continuing your learning, there are classes available for you.​

AMP Spring 2018 Schedule
| | |
| --- | --- |
| Courses | Dates |
| Course 1 - Principles and Strategic Development | May 1 to July 10 |
| Course 2 - Asset Management Capabilities Development | May 2 to July 11 |
| Course 4 - Developing and Implementing Asset Lifecycle Delivery Activities | May 3 to July 12 |
Note: schedule subject to change. Please confirm directly with the teaching institution for the most current information.