Last Chance to Get Started: Maintenance Management Professional Program
The Maintenance Management Professional (MMP) certificate program focuses on the tools, techniques, strategies and skills necessary for effective management of a business's existing physical assets. Graduates have the knowledge and skills to drive improvements in uptime, production capacity, equipment reliability, safety, environmental compliance, economic life of assets, return on investment and effective communication between departments.

​Participants in the program represent both public and private sector organizations, across many industries. The program is designed for mid-career professionals, and has been developed and is maintained by PEMAC a not-for-profit organization, ensuring the it is independent of consulting services and product sales.

Completion of the eight in-depth modules leads to an MMP designation, that is widely recognized by a growing number of governing bodies and associations, and is also available for CEU credits in some cases.

​Learn more about the MMP program by attending a complimentary information session or listening to a previously recorded webcast session.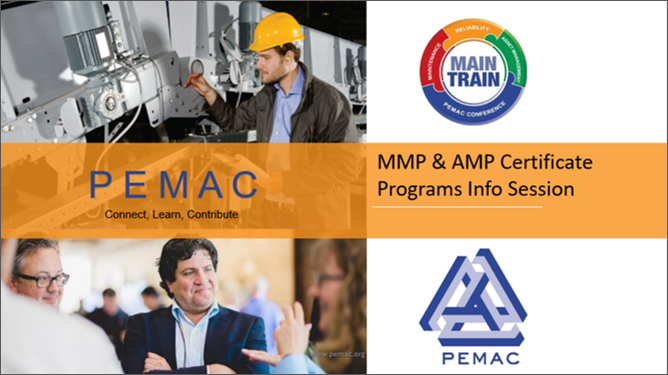 ​
​Start your learning now at any of these teaching partners that deliver MMP across the country in face to face classes and online. Many have the introductory course: Module One - An Integrated Strategy for Maintenance Management scheduled for this term. ​

BCIT - Vancouver, BC
​Click here for more information
​Contact Brent Dunn at (604) 432-8755 or email brent_dunn@bcit.ca
April 1 to May 7
Bow Valley - Calgary, AB
​Click here for more information
Contact Marivic Go at (403) 410-1591 or email mgo@bowvalleycollege.ca
Cambrian College - Sudbury, ON
​Contact Cindy Rocca at (705) 566-8101 or email cindy.rocca@cambridgecollege.ca

College of the North Atlantic - Labrador, NF
​Contact Holly Callahan at holly.Callahan@cna.nl.ca

Conestoga College - Kitchener, ON
​Click here for more information
​Contact Melissa Humpries at (519) 748-5220 or email mhumphries@conestogac.on.ca
May 5 to May 12

​Fanshawe College - London, ON
Click here for more information.
Contact Ann Wilkinson at (519) 452-4443 or email awilkinson@fanshawec.ca

​Humber College - Toronto, ON
​Click here for more information
​Contact Anureet Jauhal at (416) 675-6622 or email anureet.jauhal@humber.ca
Start Date: ​May 7 to June 11

Keyano College - Fort McMurray, AB
​Click here for more information
​Contact Bertha Fairley at (780) 791-8907 or email bertha.fairley@keyano.ca

​​Mohawk College - Hamilton, ON
Click here for more information
​Contact Jennifer Garside at 905-575-2203 or email jennifer.garside@mohawkcollege.ca
​Start Date: April 28 to May 12, or
​May 2 to May 29

​New Brunswick Community College - Saint John, NB
​Contact Stephanie Mason at (506) 658-5485 or email stephanie.mason@nbcc.ca
​Northern College - Timmons, ON
Click here for more information
​Contact Liliana Rios at 705-235-3211 x 2270 or email riosl@northern.on.ca.

Northern Lakes College - ONLINE
​Click here for more information
​Contact Lisa Bigstone at (780) 849-8665 or email work@northernlakescollege.ca
​Start Date: May 7 to June 11

St. Clair College - Windsor, ON
Click here for more information
​Contact Sandy de la Penotiere at (519) 972-2727 or email sdelapenotiere@stclaircollege.ca

​Universite du Quebec - Ecole de technologie superieure - ets - Montreal, Quebec (en Francais)
​Click here for more information
​Contact Michel Rioux at (514) 396-8617 or email michel.rioux@etsmtl.ca

​University College of the North - Thompson, MB
​Contact Margaret Monias at (204) 677-6510 or email mmonias@ucn.ca

​University of Saskatchewan - Saskatoon, SK
​Click here for more information
​Contact Debora Rolfes at (306) 966-7830 or email graham.school@usask.ca
​*Dates and times subject to change by the teaching institution. Always check with the teaching institution for up to date details.
More schedules are added on a regular basis. Be sure to check back often or connect with the teaching partner directly for more details. ​For more information about the MMP program and to find a course near you contact Nicolle Guillen at (905) 823 7255 extension 3 or email pd@pemac.org.