2021 Schedule
Displaying 1 - 1 of 1
Weathering the Challenges - PR Pharmaceuticals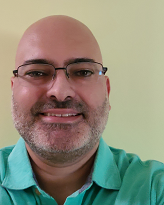 Sr. Reliability Engineer, Viatris Inc
Description:
2020 was a challenging year for everyone, but in our facility, we were able to sustain the site reliability through the successful implementation of Total Productive Maintenance. Total Productive Maintenance allowed us to minimize equipment downtime throughout the year through the combination of keeping equipment in its base condition and producing clear operational and maintenance triggers to catch problems before they become in-process failures. The talk will go through the initial implementation phase (pre-lockdown) and how we navigated through internal and external challenges in 2020 to sustain the TPM and Reliability activities.
About the Presenter:
Ricardo Ortiz, CMRP CMP studied Nuclear Engineering at the Massachusetts Institute of Technology. He moved to Puerto Rico in 2001 and has served for close to 20 years in the Pharmaceutical Industry in various Maintenance and Reliability functions. He is currently the Sr. Reliability Engineer at the Viatris (formerly Pfizer) Barceloneta, PR site. His current Reliability Engineering interests are in blending Artificial Intelligence and Condition Based Maintenance to increase a manufacturing site's value proposition.
---