2022 Schedule
Displaying 1 - 1 of 1
A Road Map to Excellence, Connect, Learn, Contribute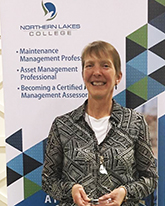 Presenter:
Edith Mackenzie
The Professional "Nudger", Retired
Description:
A road map to excellence, connect, learn, contribute (share the driving and revise your trip along the way!) AND Take a detour once in a while... Road trips are a great way to see a country. You start with a reason for the trip and then you map out the route. Along the way you discover that your original route may not be the one you still want to be taking. The PEMAC and Northern Lakes College partnership is like that. In 2004 it started with delivering the Maintenance Management Professional (MMP) program, live online, and from there it has flourished to delivering all PEMAC programs/courses to participants across Canada and around the world. In an 18 year partnership you learn a lot together. This presentation will focus on how 3 small words, connect, learn, contribute, have continued to drive the partnership through all the years and what lessons we learned along the way. These lessons are ones that apply to all partnerships - in your workplace, with your customers, in your community - excellence is a shared learning journey.
About the Presenter:
Edith Mackenzie is recently retired and was the Senior Liaison for Continuing Education & Corporate Training with Northern Lakes College (NLC). During her 38-year career with NLC Edith worked with students, instructors, communities, organizations and multiple partners to deliver quality training to the NLC region and beyond. For 10 years, Edith coordinated the online delivery of PEMAC's Maintenance Management Professional (MMP) program. In 2016 PEMAC's CAMA course was added and in 2018 the delivery of PEMAC's Asset Management Professional (AMP) program. Accessibility to education wherever you are located is a key driver for NLC and Edith. The PEMAC programs have connected her with participants, instructors and companies across Canada and around the world. Edith is passionate about service and PEMAC's tagline – Connect, Learn, Contribute – is how she works with others. She often calls herself the "professional nudger" in her role and it has served her well with connecting to others in a timely fashion, learning from them and leading to necessary changes in how courses are delivered. Excellence is a shared learning journey. Edith is an active member of PEMAC and volunteers on the MainTrain committee.
---