2022 Schedule
Displaying 1 - 1 of 1
People, processes, and technology: How Cameco is improving how physical assets are managed at its mining operations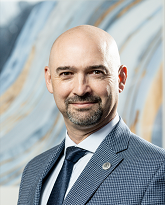 Presenter:
Jean-Pierre Pascoli
Director, Asset Management & Reliability, Cameco Corporation
Description:
Presentation highlights the importance and interdependency of three pillars of success (people, processes, and technology) and Cameco's asset management improvement efforts through each of these, including lessons learned. Audience will learn about the importance of organizational change management, business process management and agile methodologies, some of the technologies supporting asset maintenance and reliability, and its new Asset Management & Reliability Center of Excellence.
About the Presenter:
J.-P. is the director, physical asset management & reliability for Cameco Corporation, an uranium mining and nuclear fuel manufacturer based in Saskatoon, Saskatchewan. Prior to this he was manager, engineering & maintenance at Cameco's conversion facility in Port Hope, Ontario.
Before joining Cameco, J.-P. held a number of management positions, including manager, maintenance & reliability for an OSB producer in northern Ontario, and superintendent, maintenance services for a pulp and paper manufacturer based in eastern Quebec. Leading to these positions were a number of technical appointments with a nickel mining company at various sites in northern Ontario and Quebec, including senior projects engineer, and senior maintenance engineer.
J.-P. holds a degree in mechanical engineering from the Faculty of Applied Science at Queen's University and is a graduate of the University of Toronto's Physical Asset Management Program. He is a licensed engineer with Professional Engineers Ontario and Ordre des ingénieurs du Québec, as well as a certified maintenance and reliability professional with SMRP and a certified asset management assessor (CAMA). He is an active board member of PEMAC currently serving as President.
---