2022 Schedule
Displaying 1 - 1 of 1
Lessons Learned in an Asset Management Planning Process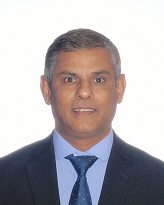 Presenter:
Dharmen Dhaliah
Senior Manager, Climate Change and Asset Management, Town of Halton Hills
Description:
Asset management planning can be a very daunting and overwhelming task. It is a long and complex process involving consultation with multiple stakeholders within and outside the organization as well as gathering of significant amount of critical data. This, by itself can be very challenging as data collection, storage and processing tend to be siloed-based, developed by a specific functional area for use only in that area. The effects of the isolated function-specific approach are widespread and have significant implications, creating gaps and misalignment in asset registers, business process information and most importantly impeding the decision-making processes. Addressing those gaps, achieving the alignments, and packaging the whole information in a structured manner are the essence of effective asset management planning. A key deliverable of the asset management planning process is an asset management plan. Although an asset management plan is a very important planning and communication tool for the organization, the planning process needs to take into consideration how the plan will eventually be implemented across the organization. In this presentation we will explore the asset management planning process with focus on the different sections of a typical asset management plan and its application to the organizational context. We will review the stakeholders' engagement approach, the different coordinated activities involved, the integration with other plans and policies, the potential challenges that could be faced, and how they can be addressed. At the end we will compile and share the lessons learned along the way from an asset management practitioner's perspective.
About the Presenter:
Dharmen Dhaliah is the author of Physical Asset Management — An Organizational Challenge and Organization-Wide Physical Asset Management — A Systems Approach and developer of the HPAM Planning Tool. He has more than 28 years of working experience in the private and public sectors, where he has held various positions in physical asset management, maintenance management, reliability engineering, and project management in a wide range of industries. Dharmen currently works for the Town of Halton Hills as Senior Manager, Climate Change and Asset Management. He is a registered professional mechanical engineer, a Certified Asset Management Assessor, a Certified ISO 55001 Provisional Auditor, a Project Management Professional, a Maintenance Management Professional, and a Certified Maintenance and Reliability Professional.
Dharmen is a member of the Technical Committee 251 for the ISO 55000 standards, and a member of CNAM (Canadian Network of Asset Managers), and he has served for several years on the Board of Directors of PEMAC. He is also an online instructor of the Maintenance Management Program, the "Planification et gestion de la maintenance" program, and the Asset Management Professional Certificate program.
---