2022 Schedule
Displaying 1 - 1 of 1
Developing an Inclusive Workspace and Supporting Trans Employees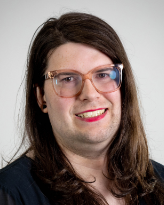 Presenter:
Blair Carmichael
Asset Strategy and Planning Specialist, Ontario Northland
Description:
You get a new job and are super excited. You know you're the best person for the job. You get your email and its your legal name. You have to go to the washroom and the two options are men or women. They pull your gender from your drivers license and it can easily be looked up by others. Your new boss brings you around and keeps refering to you as "he". You get the dress code and it specifically says what men vs women are to wear. For most people… you don't even realize any of this. For trans people, each of these actions and more are a small scratch, causing you to put up a shield, hide yourself, and try and fight the intense anxiety telling you "you've made a horrible mistake". The 2SLGBTQ+ community is made up of members from all works of life, and I'm confident people you know are queer, whether you know it or not. The actions (and inactions) you take have a direct impact on these individuals daily lives within your organizations. In this session we'll go over different changes that you can implement immediately and into the future to make your workplace more inclusive. Participants will walk out with an actionable list to help them start the process of making their workplace more inclusive for trans employees. These actions may seem small, but it's a great place to start. Lets work together to make our workplaces a welcoming environment for all. Everyone should feel that they belong.
About the Presenter:
Blair Carmichael (They/Them) grew up in North Bay, Ontario the Gateway to the North. Blair has their Bachelor of Commerce and Bachelor of Business Administration from Nipissing University, and their Masters of Business Administration from the Australian Institute of Businesss, and is completing their education for PEMAC's CAMP. Currently working as an Asset Management Specialist at Ontario Northland Transportation Commission on the program team to implement a new Asset Management transformation. Blair identifies as non-binary and is a strong believer of making the world more inclusive. At home you'll find Blair in their animal zoo with five dogs and two cats, crocheting some project, and binging the latest reality tv competition or drama.
---