2020 Schedule
Displaying 1 - 1 of 1
Motion Amplification joining the Asset Management Landscape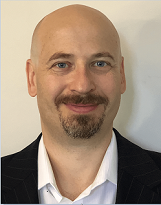 Presenter:
Janos Pattantyus
Canadian Sales Manager, RDI Technologies
Description:
New technologies regularly enter the world of asset management (AM), often leveraging new inventions, which, in turn, are driven or supported by other advances such as computing power and big data handling. Such is the case for Motion Amplification, a new technology impacting crucial aspects of vibration analysis, machinery and structural troubleshooting, root cause analysis, and communications. This presentation will outline which areas of AM are impacted so we can have a road map facilitating the integration of the new tool into a global strategy and get an overall picture of the impacts it will have. We'll also provide a brief technical introduction and some practical illustrations.
About the Presenter:
Janos Pattantyus is the Sales Manager for Canada at RDI Technologies. He puts his bilingual passion for vibration analysis and solving machinery problems to good use, initiating training and supporting Canadian practitioners of asset health monitoring in Motion Amplification.
For over 10 years, Janos was a permanent machinery protection system support specialist, where he excelled in the application and technical realization of alarm/shutdown and online data acquisition systems for large critical rotating equipment. In this role, he would participate in instrumenting hydro turbines, gas turbines, steam turbines, centrifugal and reciprocating compressors, generators, and pumps. Eventually wanting to know more about vibration analysis, Janos ventured into the world of consulting, using CSI technology and others to create predictive maintenance programs using portable and online systems. During these last 10 years, he trained in oil and lubricant analysis, thermography, ultrasound, root cause analysis, electric motors, and gearboxes. And his work took him into most industries, including oil & gas, petrochemical, power generation, food & beverage, pulp & paper, mining & metals, and pharmaceutical.
Janos is a certified category IV vibration analyst with a master's degree in mechanical engineering. He is a licensed engineer in the province of Quebec.
---