2019 Schedule
2019 Schedule
Displaying 1 - 1 of 1
Asset Management Hackathon - Hacking the Traditional Asset Management Plan
Presenter:
Catherine Dallaire
Co-presenter:
Patrick Brisson
Senior Manager, Infrastructure Advisory, KPMG LLP
Description:
As expectations and technology evolve, the traditional written asset management plan (AMP) is a thing of the past. Typically a static document, the plan outlines organizational goals, objectives, and levels for service for assets; compares them to the current state of the assets; and develops lifecycle and associated financial strategies to achieve those goals. What typically results is an "infrastructure deficit," or some kind of funding gap. But regulatory requirements, customer and funder expectations, and evolving technology are pushing us to do better. What if, instead of a document, an AMP could be a dynamic set of processes and tools to support you and your decision-makers? We'll crowd-source a new vision for the AMP and outline the capabilities required to do so. This hands-on workshop will prepare you to deal with specific decision-making scenarios, with a focus on the data and information required to support decisions. You'll develop data visualizations and dashboards to illustrate your analyses and support your decision-makers. We'll discuss the opportunities and barriers to a more nimble, responsive, and connected asset planning process.
About the Presenter:
Catherine is a bilingual Manager with KPMG's Infrastructure Practice in Ottawa. She is an asset management specialist who has completed organizational assessments against international standards, governance studies, business function reviews, and capital planning projects for many local governments. Her excellent interpersonal skills have allowed her to facilitate numerous working sessions and interviews with staff of all levels in order to incorporate local business needs, corporate objectives, risk tolerance levels and functional and data requirements into project deliverables. She is able to build trust and maintain buy-in for project goals from the various people involved in a project with her team focused approach acquired through her years in the Royal Canadian Navy.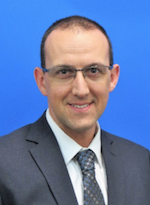 About the Co-presenter: Patrick is a Senior Manager with KPMG's Infrastructure Advisory, and part of its Asset and Operations Management practice. Based in Ottawa, he is a Professional Engineer with over 15 years of experience in municipal engineering and asset management. Prior to joining KPMG, Patrick led the Comprehensive Asset Management Unit at the City of Ottawa. His Unit had the mandate of developing and supporting the implementation of asset management practices and systems across the organization. He led the development of several foundational standards, practices and reports guiding the City's approach to managing its infrastructure. He was also involved in the development, review, and modernization of several policies, systems, workflows and business practices impacting infrastructure and service delivery. Patrick is active in the asset management community. He served as the Ontario Director for 2 terms on the Canadian Network of Asset Managers' Board of Directors, and has presented at numerous conferences and at undergraduate classes as a special content expert on asset management. He holds a certificate in Asset Management from the Institute of Asset Management.