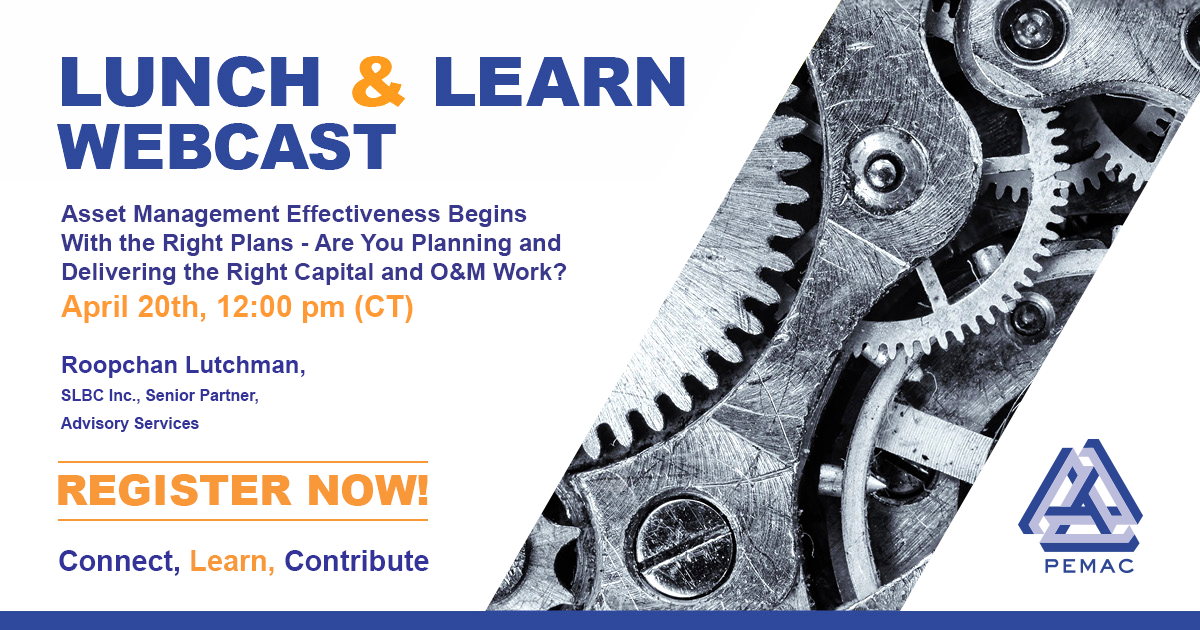 Join PEMAC for our next lunch and learn webcast taking place on Tuesday, April 20th at 12pm Central time. Participants will gain tools and tips they can use to strive for excellence in asset management, maintenance and reliability. 
Topic
Asset Management effectiveness begins with the right plans - are you planning and delivering the right capital and O&M work?
Presenter
Roopchan Lutchman, SLBC Inc., Senior Partner, Advisory Services
Fee
PEMAC Member: Complementary (Log in to the PEMAC site to ensure you receive your complementary member rate)
Non PEMAC Member: $ 30.00 + $ 3.90 Tax
Presentation Description 
Asset management (AM) is a far-ranging topic and can be very confusing or overwhelming to anyone who is now embarking on a program or trying to take their existing program up a notch. The biggest impact in AM is on the planning side of the AM Framework. Essentially, if you plan well, then you can execute the right activities (capital project, operations, and maintenance tasks) well. Conversely, which is the case with many organizations, there is poor planning but with efficient execution of the work and attendant sub-optimal performance. Excellence in AM requires effective planning in three areas: Growth and Rationalization, Renewal & Replacement, and Operations & Maintenance. This presentation will provide best-in-class concepts for developing these three areas and the return on investment in effective planning, and will be supported by real-life examples.
Speaker Bio
Roopchan Lutchman has been a trusted advisor helping clients to minimize the cost of business through practical and effective solutions over the past 25 years. He is a published author with three books focused on business optimization. He brings a global perspective to projects based on the work he undertook in the 2008 and 2012 WSAA international asset management benchmarking projects, as well as numerous projects in Canada and the U.S. These include water, wastewater, public works, rail, ports, and oil & gas clients. He has helped clients develop solutions in the following focus areas: strategy, assets, people, processes, technology, and data.
When
April 20th, 2021 12:00 PM to 1:00 PM
Event Fee(s)
Webcast: Non-Member PEMAC
$ 30.00

+ $ 3.90 Tax
Webinar Event
| | |
| --- | --- |
| Webinar Key | 2542135067861204239 |