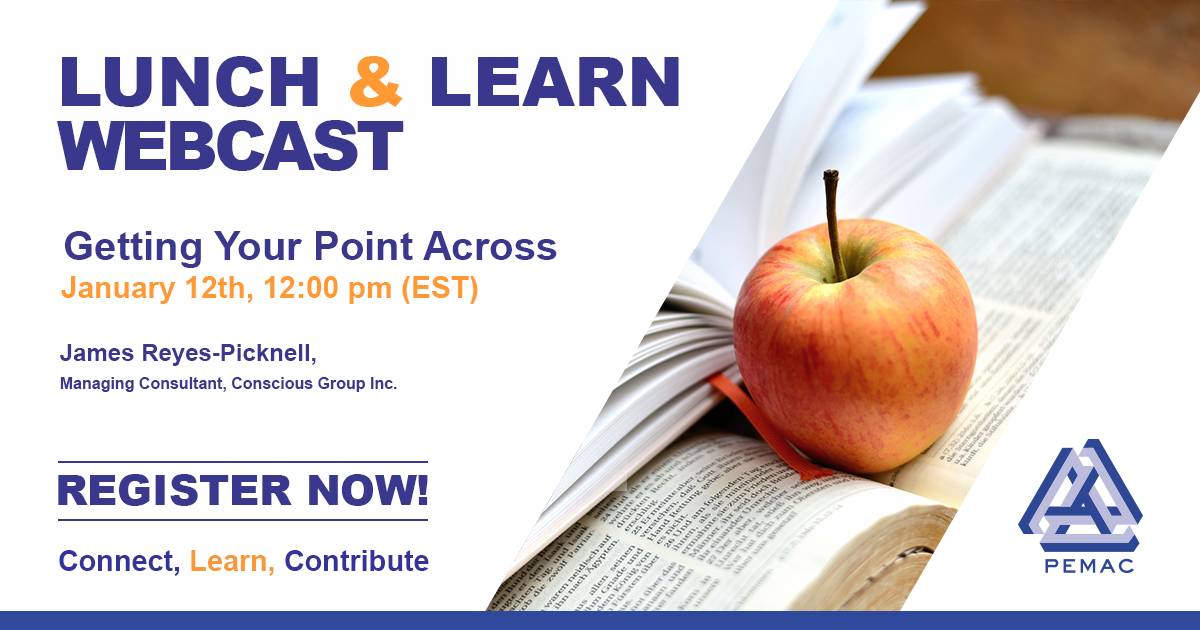 Join PEMAC for our next lunch and learn webcast taking place on Tuesday, January 12th at 12:00 pm Eastern Time. Participants will gain tools and tips they can use to strive for excellence in asset management, maintenance and reliability. 
Topic: 
Getting your point across
Presenter: 
James Reyes-Picknell, Managing Consultant, Conscious Group Inc.
Fee:
PEMAC Member: Complementary (Log in to the PEMAC site to ensure you receive your complementary member rate)
Non PEMAC Member: $ 30.00 + $ 3.90 Tax
Description:
In our isolated world of maintenance and asset management, we often struggle to make a solid case for improvements we know will be of value to our organizations. Our managers and executives often don't "get it," and our best arguments just don't hit the mark. Communicating what we know to be true is our responsibility; we cannot expect our audience to understand our knowledge domain as we do. We need to send clear, unambiguous messages that will be understood by the listener.
This presentation will focus on ways to communicate the value that arises with good maintenance, and operational and asset management practices, throughout the lifecycle of physical assets. "Value" is often misinterpreted to mean "low cost," especially in the accounting community. To them, value comes from minimizing any and all costs. Operations managers often interpret "value" as the ability to deliver more and avoid any downtime on any machine involved in production. To them, denying downtime for maintenance is a good thing to do. Maintainers tend to interpret value to mean fewer failures. Yet the avoidance of all failures may actually expend needless resources where there's no need. Engineers often think of value deriving from the delivery of projects on time and on budget—even better if delivered earlier or at lower-than-estimated costs. Spending less upfront, however, can lead to high operating and maintenance costs for years to come. To an extent, they're all correct, but they're all missing the true meaning.
We'll speak to value, what it is, how our organizations can ensure it's delivered, and how we can make a case to our managers and executives so they'll understand. This presentation is based on Paying Your Way (2020).
About the Presenter:
James Reyes-Picknell is an MMP instructor, PEMAC volunteer, and former Board Member. He is founder and president of Conscious Asset, and author of the bestseller Uptime — Strategies for Excellence in Maintenance Management, several other books, and numerous magazine articles. His latest publication in April 2017, co-authored with Jesus Sifonte, is destined to change the RCM world for the better while showing how RCM is an integral aspect of asset management. James is a professional engineer, certified management consultant, and a thought leader in the fields of maintenance and asset reliability. He works with clients in asset-intensive industries such as resource extraction and processing, utilities, transportation, and manufacturing, where high reliability is a key to business success.
When
January 12th, 2021 12:00 PM through 1:00 PM
Event Fee(s)
Webcast: Non-Member PEMAC
$ 30.00

+ $ 3.90 Tax
Webinar Event
| | |
| --- | --- |
| Webinar Key | 2110260093216784911 |